Friday, March 15th, 2013
Celina students share their slice of Pi
By Eric Adams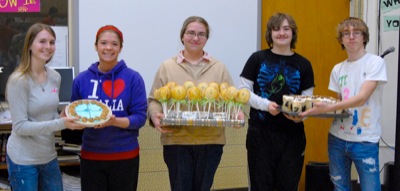 CELINA - Celina students were given an unusual assignment last week and they rolled with it.
High school math students on Thursday, 3-14, went all out to celebrate Pi, 3.14, the number that represents the relationship between a circle's circumference and its diameter.
Students enrolled in geometry and higher level math classes showcased their skills of memorization, presentation and baking for the event, combining puns with facts and creativity with practicality.
"Did you know that 3.14 percent of sailors are Pi-rates?" asked junior Kayleigh Andrews at the beginning of her group's presentation.
Andrews pointed out that Albert Einstein, author of "the world's most famous equation" E=MC2, was appropriately born on March 14 in 1879.
Since her freshman year, Andrews has watched the unofficial holiday grow in scope from just a few activities to an all-day extravaganza.
"The best part is to have fun and to learn at the same time," she said, adding the presentation was her favorite aspect.
Students also competed in a memorization contest, writing all the digits of Pi (an infinite number) they could remember.
Senior AP calculus student Brianna Beougher finished first with 163 digits, followed by her classmate Brooke Mertz, who recalled 155. Reagan Moege, an eighth-grader who takes honors geometry at the high school, rounded out the leaders with 142 digits.
All the students were given about a week to prepare.
Pie contest winners also were designated for each period; first place winner Tara Abner, a junior, prepared Pi pops for the occasion. The circular "pops" each were adorned with either the Pi symbol or the digits 3.14.
Claiming second were senior calculus students Amanda Ebbing and Taylor Guingrich, who baked a peanut butter "Pi plate." The culinary creation had wafers lining its circumference, each bearing a fraction pertinent to "Pi."
Pre-calculus and calculus students commonly use a non-edible version of the plate as a study tool.
"The whole class is based on this plate; we wanted to be different and not just write the number," Ebbing said.
Freshmen Baron Abner and Marshall Carter took third with their pie, which was shaped like the mathematical symbol and lined with the first several digits.
"It's good to take a day to explore the things we don't get to do in regular classes," said second-year geometry teacher Brad Siebert. "It's a way to mix creativity with math."
Erika Draiss, nine-year veteran of the school's math department, said Thursday marked the second year of the all-day celebration.
"It really is a fun day for all," she said. "Even the teachers of other subjects stop by to check it out."