Friday, March 15th, 2013
Barnett in MMA spotlight
St. Marys native faces former Olympic gold medalist in Gladiator Challenge
By Gary R. Rasberry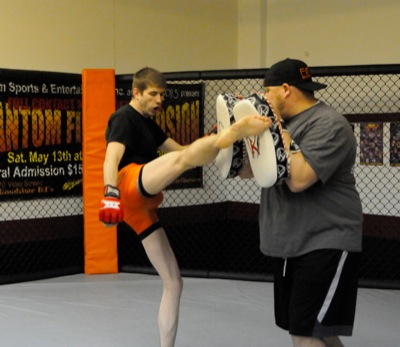 ST. MARYS - After training in Mixed Martial Arts for years, going back into his high school days, Sean Barnett has an opportunity on the professional level.
The former St. Marys wrestling standout and current coach in the Roughriders' grappling program will compete March 24 at the Gladiator Challenge fight card at Soboba Casino in San Jacinto, Cal., after signing a multi-fight deal with the promotion.
His first fight for the company is a high-profile one, as he will fight 2008 Olympic Wrestling Gold Medalist Henry Cejudo.
Barnett, a two-time All-Western Buckeye League wrestler and two-time district qualifier at 135 pounds with the Roughriders, got started with MMA training in high school.
"I've been competing now for about six years," said Barnett. "I started as a sophomore in high school."
Working with Jody Poff at Peak Submission in St. Marys, Barnett took part in amateur events during high school and turned pro a couple of years ago.
While his wrestling background is helpful while competing in MMA, Barnett has a well-rounded repertoire of skills, working boxing and kickboxing into his repertoire.
"My main background is wrestling, but lately I've been picking up my training," said Barnett. "I'm going to Lonnie Rettig, helping me get ready for my stand-up (action). Also, (I've) been going to Jerry Poe for kickboxing. I've been trying to step up the different aspects of the game."
After working eight hours at his full-time job, and during the wrestling season working with the high school wrestling team, Barnett puts in around three hours per night six days a week into training. Mondays are set aside for kickboxing training with Tuesdays and Thursdays set aside for his ground work - where he is on the mat with an opponent rather than standing. Wednesdays and Fridays have Barnett working on his boxing. Saturdays are set for core training workouts with Sunday being a rest day.
As a pro, Barnett is 4-3 with one no-contest. Two of his wins came via first-round submissions using an armbar.
In facing Cejudo, who won gold in the 121-pound freestyle competition in 2008, Barnett thinks he has a more-rounded game than Cejudo.
"He's got wrestling, and he's a great wrestler," said Barnett, who stands 6-foot-1 to Cejudo's 5-4. "There's more than wrestling in the sport. People have to understand that there's more than wrestling. All these people talk how good he is. You go on YouTube and watch his last fight, he got dropped with a straight kick. All he has is leaning on his wrestling."
The fact that Barnett has boxing and kickboxing skills will be an advantage against Cejudo.
"We've been working on keeping my distance and keeping him away from me," said Barnett. "When he shoots in (goes in for an attack), it goes into kickboxing because there will be knees and elbows and all that stuff we've been working on. With boxing, you have to be moving at all times."
Barnett's family and friends have been very supportive of his work in the cage.
"My last fight, almost all my family were there supporting me," said Barnett. "Friends from high school were there. They were supporting me. For (the Cejudo fight), I had a lot of guys come to the gym to help work out and get me ready for Henry. Keeping my mind focused and prepared for the fight is the main thing right now."