Tuesday, March 19th, 2013
Celina board OKs school realignment
K-2 will be housed at East building, third through fourth grades at West
By Amy Kronenberger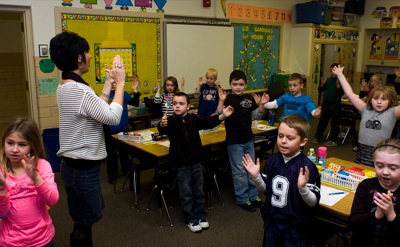 CELINA - East and West elementary schools will become grade-level schools next school year.
School board members on Monday night approved realigning the schools so East would house all kindergarten through second-grade students and all third- and fourth-graders will go to West. Superintendent Jesse Steiner said informational meetings with teachers and the public will be scheduled soon.
"We'd like to start holding meetings for the teachers and community to make sure we're looking at this from every angle and to make sure the community is behind it," he said. "From what I've heard so far, most of the community supports it."
Steiner said the district would not need to hire additional teachers or create additional bus routes.
"We looked at busing and costs, and we believe we could realign the two buildings with little to no extra cost," he said.
Assistant superintendent Kevin Mast said they might need to replace a few drinking fountains due to wear and tear, not because of size.
"Maintenance-wise, we don't see anything other than what our normal summer activities would be," he said.
Mast said the only change they foresee is a slight adjustment in bus pick-up and drop-off times.
Elementary principals Michelle Duncan and Sue Aukerman proposed the idea to the school board last month, saying it has been discussed for more than a decade.
"What really intensified the talks this year is the new curriculum standards and the third-grade reading guarantee," Aukerman had said. "It would be so much easier if all (grade level) teachers were in the same building so they could work together."
Teachers also only saw positives for the students, Aukerman and Duncan said. The change would eliminate the East versus West mentality, and having third and fourth grades at West would allow cross curriculum with the fifth and sixth grades at the nearby intermediate building, they said.
The principals also said the realignment would alleviate overcrowding issues at East and create a better fit at both buildings.
"It would work out really well freeing up space at East, taking teachers out of hall space and closets and putting them in classrooms," Duncan said.
Also at Monday's meeting, the board approved seven retirements, including Aukerman and treasurer Mike Marbaugh. Aukerman is retiring after 34 years of service, and Marbaugh is retiring after 35 years of service.
Also retiring are George Tester, electrical maintenance, 26 years of service; Paula Klosterman, secretary to the superintendent, 30 years of service; Ruth Rumple, family and consumer science, 26 years of service; Elaine Eichenauer, West resource teacher, 37.5 years of service; and Lynne Fuelling, East third-grade teacher, 35 years of service.
Steiner, Mast and board members all thanked the retirees for their service and wished them well.
"I would like to thank everyone who is retiring for your service," board member Cindy Piper said. "Celina is so good because of you."
The board approved a 100 percent, 15-year tax abatement to Celina resident Daniel Sharkey, owner of Ergo Desktop, to build a new 21,000-square-foot facility at 451-457 Grand Lake Road. Sharkey said he began his business of building and selling ergonomically correct desks in his garage three years ago. As the business grew, Sharkey moved into the Galleria. His business has now gone international and needs additional space.
The company also has established work opportunities for students who have behavioral issues.
"One of the great things about this company is it helps the students," Steiner said. "It offers an alternate form of education for those who have difficulty in a traditional classroom setting. It's an excellent educational experience; I'm very excited they're here."
Sharkey said they hired all local companies as suppliers. He expects to hire 18 new employees for the new facility and likely will continue to hire more as the business grows.
City council can approve a tax abatement up to 75 percent for 10 years for a business building or expanding in a community reinvestment area. Anything beyond that amount must have school board approval.
In other action, the board,
• approved various contract renewals and changes.
• approved to advertise for bids for a new 72-passenger bus.
• approved the low bid of $7,530 from Green Acres for fertilizer.
• approved an overnight trip on July 29-30 to Ohio Northern University for football camp.
• approved a one-year contract with Northwest Ohio Educational Technology for unlimited media center rentals at a cost of $1.65 per student.
• approved the purchase of a woodworking router table for Tri Star Career Compact at a cost of $7,199. The cost will be shared between Coldwater schools, Young Farmers and Tri Star. Tri Star's share is $3,000.
• learned the Franklin B. Walter's Award Banquet is 6:30 p.m. April 3 at Romer's at Westlake, Celina.
• met in executive session to discuss employment, the possible purchase of property, conferences with an attorney concerning disputes involving the public body that are the subject of pending or imminent court action and preparations for union negotiations. No action was taken following the session.