Wednesday, March 27th, 2013
Teen faces murder charges
27 counts filed over deaths of Grubes, burglary of home
By Margie Wuebker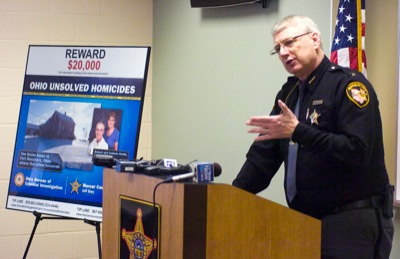 CELINA - An 18-year-old Union City man faces 27 charges in connection with the November 2011 murders of Robert and Colleen Grube.
Trevin M. Sanders has been incarcerated at the Indiana State Prison in Michigan City since the fall for an unrelated crime. He will be brought to Mercer County in the coming days.
Legal proceedings for Sanders must begin in juvenile court because he was 17 when 70-year-old Robert Grube and his 47-year-old daughter were shot to death at their Burrville Road home east of Fort Recovery. Both had been bound with duct tape. A relative who went to the Grube home the morning of Nov. 30, 2011, found their bodies in the living room - Robert in his wheelchair and Colleen on a nearby couch.
Sanders has been charged with multiple counts of aggravated murder and murder, kidnapping, involuntary manslaughter, aggravated robbery, aggravated burglary, burglary and theft. All charges carry firearm specification.
The charges, prepared by the Mercer County Prosecutor's Office, allege that Sanders, identified in court records as a delinquent child, committed the crimes "purposely and with prior calculation and design."
If a decision is made to try Sanders as an adult, the case would go before a grand jury and then be handled in Mercer County Common Pleas Court.
"The investigation is still continuing," Mercer County Sheriff Jeff Grey said at his 9 a.m. press conference today. "There is the possibility of more charges in the future and the possibility of new people in the future."
Also arrested in connection with the murders was Bryant Rhoades, 22, of rural Union City. He was taken into custody about 8:30 a.m. Tuesday at his home on a warrant charging him with obstructing official business.
Additional tips have come in since Tuesday's announcement. The sheriff urged anyone with information about the case to contact his office at www.mercercountysheriff.org or call the tip line at 567-890-TIPS (8477).
"We don't want anyone to walk away that was there," Grey added.
Based on DNA found at the scene, authorities know at least two people - a man and a woman - were present in the Grube home at the time of the murders.
It is believed the perpetrators entered the home through an unlocked door or were admitted inside.
The theft and burglary charges support earlier statements that the home was ransacked. The charges do not mention what was removed from the home, but investigators previously identified a laptop among the items missing.
Officers contend the crimes were not a random act, calling the Grubes "unlikely" victims given their quiet lifestyle.
Colleen Grube, the oldest of Robert's five children, previously worked as a nanny in New Jersey. She moved home in 2001 while recovering from a stroke she suffered the previous year.
Their roles changed when her father, a U.S. Navy veteran of the Vietnam Era, suffered a stroke in 2005. More strokes left him weakened and in need of a wheelchair.
Grey said any further information regarding the Grube case must come from Mercer County Prosecutor Matt Fox.