Wednesday, March 27th, 2013
$3.5M bond set for man tied to murders
By Margie Wuebker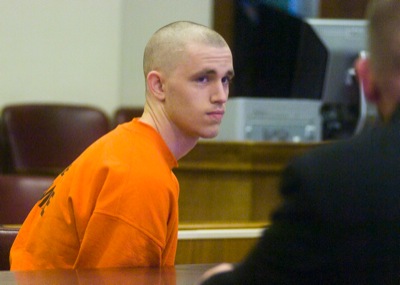 CELINA - One of two people charged in connection with the November 2011 murders of Robert and Colleen Grube appeared Tuesday afternoon in Celina Municipal Court.
Bryant L. Rhoades, 22, was arrested Tuesday morning at his home near Union City in rural Darke County. He faces a charge of obstructing official business, a third-degree felony. The offense, normally a misdemeanor, was classified as a felony due to its connection with a murder.
Mercer County Prosecutor Matt Fox requested a $1 million cash bond with no 10 percent provision, citing the seriousness of the alleged crime, the defendant's criminal history and his failure to remain in contact with probation officers as directed.
"I understand the allegations and stuff, but it typically was just lying," Rhoades said in court. "I'm not running nowhere ... I'm not trying to get out of nothing."
The defendant, dressed in a jail-issued orange jumpsuit and shackled about the wrists and ankles, stated he had hoped to be released on his own recognizance so he could go home and take care of some business.
"I don't see why bond is so high," he said.
Judge James Scheer, commenting the case is the most serious he has handled in more than two decades on the bench, set bond at $3.5 million subject to 10 percent. Rhoades must post $350,000 to be released.
Scheer found the defendant, who is not employed, eligible for a court-appointed attorney but declined to name one immediately. He said he wants to check who is representing the other person arrested in connection with the case before making an appointment.
A preliminary hearing to determine if there is sufficient evidence to present the case to a grand jury has not been set. A grand jury could indict Rhoades on the same charge or other charges.
The obstructing business charge stems from a June 4, 2012, interview regarding the Grube murders. Rhoades allegedly told officers about meeting a woman the night of the Nov. 29, 2011, murders. He took investigators to her trailer at the Broadway Mobile Home Court in Fort Recovery. Court paperwork indicates the occupant at that location is a man.
Rhoades' name surfaced early in the investigation when Jay County, Ind., authorities contacted the Mercer County Sheriff's office regarding suspicious information they uncovered while investigating another case in their jurisdiction. They reportedly said some of the details might be linked to the Grube case. Local detectives, Ohio Bureau of Criminal Investigation and Identification agents and Indiana authorities accompanied Darke County sheriff's deputies to a home where Rhoades resided with two other people.
On Jan. 4, 2012, Rhoades and four other people - three men and a woman - were arrested following the discovery of an active methamphetamine lab.
Rhoades was convicted of illegal manufacture of drugs in 2012, drug abuse and possession of drug paraphernalia in 2010 and theft/grand theft of a motor vehicle in 2009.