Thursday, March 28th, 2013
Area woman speaks to U.N.
By Amy Kronenberger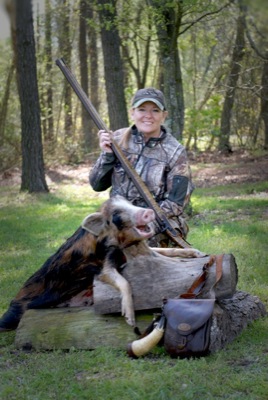 NEW BREMEN - A New Bremen resident testified before the United Nations last week in an effort to keep antique firearms out of the proposed Arms Trade Treaty.
Rebecca Waterman, president of the National Muzzle Loading Rifle Association, traveled to New York on Friday to tell U.N. representatives at the Arms Trade Treaty Conference that no justification exists to regulate antique firearms.
"There is substantial international commerce in antique firearms and their replicas, but by no stretch of the imagination are they some kind of threat that should be included within the ATT (Arms Trade Treaty)," Waterman said while speaking at U.N. headquarters. "Subjecting the international commerce in antique firearms and their replicas to an ATT will be an unjustified and unnecessary burden on that commerce."
Many people travel to different countries to compete in shooting events, she told the members. The treaty could make travel for the gun owners more difficult.
Antique firearms are those made before 1900.
The proposed treaty, which regulates international trade of conventional weapons, was first presented in July. The U.N. reconvened on March 18, with negotiations expected to wind down by the end of today.
Waterman said no agenda has been presented to add language that would include antique firearms in the proposed treaty, but "you never know what the debate is going to be."
The current proposal includes covered battle tanks, armored combat vehicles, large caliber artillery systems, combat aircraft, attack helicopters, warships, missiles and missile launchers and small arms and light weapons, ranging from assault rifles to handguns.
Waterman, who became president of the NMLRA in September, called her speech to the U.N. a wonderful experience.
"I found it very exciting just for the fact that I totally believe in what I was there for," she said.
The mother of two and grandmother of three has been shooting almost her entire life, coming from a family of antique gun enthusiasts.
"My parents always shot together, whether it be pistol, rifle or shotgun," she said. "As a child, I was introduced to the BB gun first, as were my children and grandchildren."
She was first introduced to the NMLRA, headquartered in Friendship, Ind., as a child when her father, Roger Freeman, began purchasing parts and materials from association vendors in the early 1960s to build custom rifles.
He most recently built muzzleloaders for Waterman's three grandchildren, Hunter, 10, Hayden, 9, and McKenzie, 8, "allowing all four generations to shoot together," Waterman said.
A muzzleloader is an antique gun that requires loading black powder directly into the open end of the barrel.
"I really enjoy muzzleloading because it's so much a part of our country's history; it was what our country was all about when it was getting started," Waterman said. "Now I get to enjoy what my parents enjoyed, seeing the next generations enjoying what our forefathers did many years ago, one shot at a time."