Thursday, April 4th, 2013
Ensuring student safety
Local administrators weigh in on NRA proposal of armed staff
By Eric Adams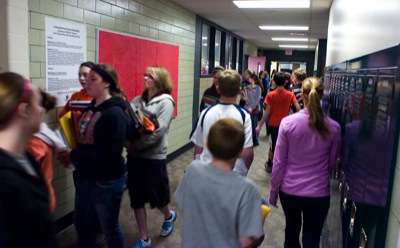 Local school leaders are still digesting the National Rifle Association's recommendation on Tuesday that selected school staff be trained as armed security officers. One administrator called it a "knee-jerk" reaction.
Howard Overman, superintendent of New Bremen schools, said it is an option the district has not seriously considered.
"We understand that safety is No. 1," he said. "We're trying to take the proper steps without arming somebody right now."
St. Marys Superintendent Shawn Brown said school officials have not discussed the possibility of arming a staff member but added he would only consider allowing the probation officer to have a gun.
Rich Seas, superintendent at Coldwater schools, called the initiative a "knee-jerk reaction to a tragic situation."
"Long before I have teachers carrying guns around here, we would have a resource officer in place that would be highly trained," he said.
The NRA proposal, headed by former Republican congressman Asa Hutchinson, closely precedes a Senate debate on gun control legislation slated for the week of April 15.
"The presence of armed security personnel in a school adds a layer of security and diminishes the response time that is beneficial to the overall security," Hutchinson said.
The initiative faced scrutiny from many, including Dan Domenech, executive director of the American Association of School Administrators. He said that while a trained law enforcement officer with a gun would be valuable, his group opposes arming "a teacher or an employee who simply has taken a course and now has the ability to carry a weapon."
School staff who pass background checks would be required to attend 40-60 hours of firearms training before being authorized to carry a gun on school grounds, according to the NRA's report.
At New Bremen, school officials have been reviewing the security of their buildings as well as instructing students to remain vigilant for atypical behavior, Overman said.
"If students notice anything out of line, (they are told) to contact personnel," he said.
Overman questioned the risk of a staff member carrying a gun.
"The pro obviously is safety, but that can be a con too if (the gun) discharges," he said. "Or, if it's locked away, can you get to it in time? There's a lot of unanswered questions there."
Another option, according to Seas, is adding another guidance counselor.
"Counselors do great work ... they're looking at all the different student issues: social, academic and emotional," he said. "You could head things off sooner if you're more aware of that."
Seas is confident that, due to close proximity, emergency response from law enforcement would be nearly immediate. He also would like to see additional communication with local police, such as connecting school security cameras with the laptops officers have in their cruisers.
"(Then) they may be able to deal with where the active shooter is at," he said. "If you have a shooter in the elementary school, there's no reason you'd want your high school kids locked down in their rooms."
Coldwater's official security policy follows traditional lockdown procedures but implementation of ALICE methods is in the works, Seas said. First-year principals Charles Tackett and Bill Ruane both recently returned from an active shooter class at Edison College.
"Right now we have more of a passive approach," he said. "We're looking at a combination of passive and active methods, (and) that's really what ALICE is."
Brown said shortly after the December shootings at Sandy Hook elementary in Connecticut, St. Marys administrators orchestrated a security walk-through of all buildings with the local police department to find any safety concerns.
Guests to St. Marys schools must pass through an initial set of front doors and check in at the office before receiving access to the building. Since the initial walk-through, police continue to visit the buildings on a random basis.
It's kind of a two-fold thing," Brown said. "The students create a relationship with the officers, and it adds that sense of protection."