Saturday, April 6th, 2013
Celina baseball improves to 4-0
Bulldogs overcome 12 walks for win
By Gary R. Rasberry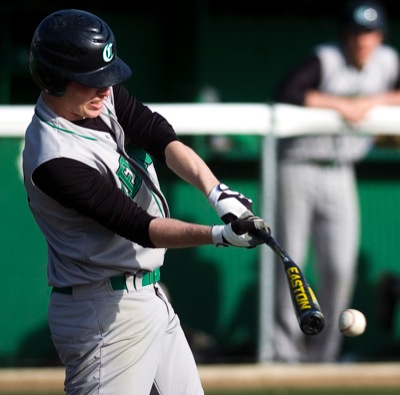 CELINA - It's rare that a team can issue a dozen walks and still come away with a mark on the positive side of the ledger.
Celina's pitchers struggled with putting runners on base via the walk, but the Bulldogs' hurlers only allowed one hit in a 10-2 win over New Bremen on Friday in the home opener at Montgomery Field.
Bulldogs' starting pitcher Cody Vogel struggled to find the strike zone in his three-plus innings on the mound as the junior walked nine Cardinal batters. New Bremen, however, had trouble keeping runners on base, as Celina's southpaw pitcher picked off two runners and Bulldogs' catcher Jimmy Luebke picked off another pair while retiring another trying to steal.
"It definitely was not a well-played game on our part," said Celina coach Drew Braun. "Cody was flat-out struggling to throw the ball over the plate, which is very uncharacteristic with him.
"We were fortunate that we were able to pick off some people," continued Braun. "Jimmy did a nice job of throwing behind runners to get some outs. We told Jimmy 'Don't be scared to throw it.' Our outfielders should be backing up so (the baserunners) shouldn't be taking an extra base anyway."
"We walked a lot, left a lot on and we got picked off a lot," said first-year Cardinals coach Josh Bowersock. "You look at the number of errors that we had and the guys we had picked off, that's about the difference in the ballgame."
Celina's offense, however, stayed strong, scoring one in the first inning and two more in the second before adding insurance with a four-run third inning off Cardinals' reliever Ty Overman. Kaleb Kuhn had a two-run double while Vogel and Riley Luebke added RBI singles.
"We put the ball into play," said Braun, whose team only struck out three times. "We made some baserunning errors here and there that we have to work on."
Of the 10 runs allowed by the Cardinals' trio of pitchers - Luke Schwieterman, Overman and Trey Naylor - only three were earned as New Bremen's defense committed six errors.
"I think the big turning point was the third inning," said Bowersock. "We finally punched through. We finally get a run and start feeling good because it's 3-1 and you can do a lot of things down two runs in the third. Then Celina got four in the bottom of the inning. That took a little wind out of the sails."
Celina's Cole Loughridge, who relieved Vogel on the mound in the fourth inning, picked up the win with four innings of no-hit relief while striking out six batters.
"Cole came in and gave us some nice innings," said Braun. "He threw strikes. Walked a couple here and there, but was around the plate. That's what we expect from our relievers."
Stachler and Kuhn each had two hits for Celina with Kuhn collecting three RBI. Riley Luebke added two RBI.
Both teams hit the road for doubleheaders today. Celina travels south to face the Greenville Green Wave while New Bremen heads to West Liberty-Salem.