Wednesday, April 10th, 2013
With right qualifications, jobs can be found locally
By Christine Henderson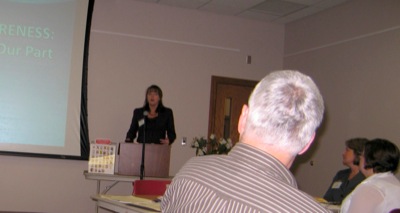 ST. MARYS - To retain graduates, Grand Lake area business leaders, the community and parents should promote available jobs and the skills needed to fill them, a local economic official advised.
Angela Hamberg, New Bremen economic development director, discussed the Workforce Development program operated by local businesses and the Mercer and Auglaize counties' development departments during the Business Person's Breakfast on Thursday at St. Marys Community Public Library. About 30 business, school and government leaders learned good-paying employment is available in this area. College graduates do not need to move to big cities, Hamberg said.
High school students often are not aware of the number of job openings and pay scales for the careers they want to pursue. The Workforce Development program provides job availability information and business mentoring assistance.
Students also may look at Hometown Opportunity and JobsOhio websites for available jobs. Older workers may also want to check the websites to learn which skills they should obtain for a better job, she added.
"Businesses in Auglaize County and Mercer County just became stronger" as a result of the national recession, she explained.
Many local employers are seeking entry-level employees, but they are having difficulty filling the spots with qualified people.
The top Mercer/Auglaize employment areas are advanced manufacturing, agriculture and health care. Jobs are available in engineering, marketing and sales, information technology, customer service, maintenance technology and advanced CNC manufacturing
However, many applicants for these job openings are not qualified or "there is, unfortunately, a drug issue," she explained.
When seeking a position, Hamberg said, "Students need to set themselves apart." They need both education and practical experience in the career. She recommended students become involved in mentoring, summer work and internships.
She asked educators and local business owners to promote job shadowing, internships and other efforts to show students available jobs.
Library officials in 2012 updated public access computers, purchased new books and audio-visual materials and completed maintenance projects with funds from a 0.75-mill levy. A variety of new programs with speakers and activities also were held.
The 2013 goals include an electronic book clinic, exploring home-school programming and updating the library's website and Facebook page, library director Susan Pittman said. The library also will receive a donation of local history books from George Neargarder.