Wednesday, April 10th, 2013
Parkway knocks off Crestview by run-rule
By Gary R. Rasberry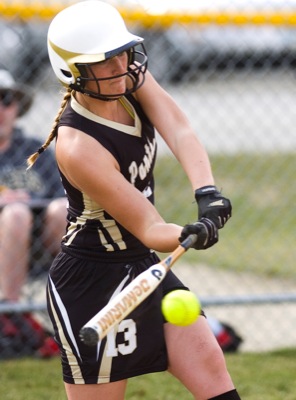 ROCKFORD - The Parkway softball team avenged last year's district final loss to the eventual Division IV state champions with an explosive offensive performance en route to a 13-3 five-inning win over Crestview on Tuesday.
"That's the first time this year we've played like we can play," said Panthers coach Mark Esselstein. "We played good defense, other than a miscommunication on a relay. ... Sierra (Fent) was around the plate."
The wind was blowing toward the outfield fence at the Panthers' softball diamond and Parkway took advantage in the second inning by sending 11 batters to the plate and scoring six times off Crestview pitcher Kirstin Hicks. Sierra Fent, Lindsey Walls and Rachel King collected doubles in the inning with Kylie Snyder adding a two-run single to put Parkway on top 6-0.
The Panthers scored three more runs in the third as Ashlyn Henderson led off with a home run to right-centerfield off Knights' relief pitcher Courtney Grote. King doubled, followed by back-to-back singles from Olivia Smith and Zoey Pond that resulted in two more runs to make it 9-0.
Parkway collected 13 hits and seven were for extra bases. The bottom three spots in the Panthers' batting order - King, Smith and Pond - combined to go 7-for-9 with seven runs scored and five RBI.
"We got a lot of contributions offensively," said Esselstein. "Crestview helped us some. They made some mistakes on defense and it just kind of snowballed."
A nine-run lead was more than enough for Fent, although she did have a hiccup in the top of the fourth when the Knights scored three runs.
Parkway got the runs back in the bottom of the fourth by scoring four runs to trigger the run-rule. Fent led off with a homer, Pond drove in two runs with a single and Smith doubled in a run.
Fent pitched a perfect fifth frame and finished with four strikeouts, two walks and three hits allowed.
"What I liked the best was they scored three to get it to 9-3 and we answered," said Esselstein. "That's a sign of a good team when you can start to let a team back in it, then you take it right back."
"When you get ahead 9-0, unless you're going to get base hits all the time like they did or start having errors like we did all the time, that just builds confidence on their part," said Crestview head coach Owen Pugh. "It doesn't do much for us. We're putting the bat on the ball a bit, but (Parkway) is a good fielding team. Not only Fent throwing the ball, but their second baseman (Lindsey Walls) showed she was going to pick up everything that went her way."
Mdackenzie Riggenbach had two of the three Crestview hits.
King had two doubles among her three hits while Pond, Smith, Henderson and Fent each scored two runs.
Parkway heads to Dorothy Edwards Field on Thursday to face Elida.