Saturday, May 4th, 2013
Area schools face many teacher retirements
By Amy Kronenberger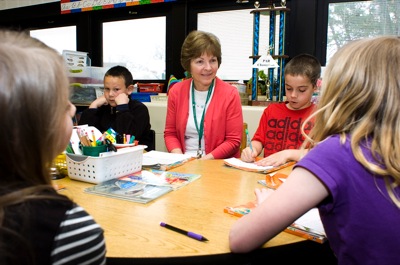 Celina East Elementary School third-grade teacher Donna Hoskins, with 28 years of experience, is one of 69 veteran educators in the Grand Lake area who have recently announced their retirement.
She originally planned to retire in 2014 but changed her mind due to adjustments in state retirement benefits.
"I really started going through everything and thinking, and with the changes in retirement and in the education curriculum, I knew this was the right time," she said.
Many districts are seeing twice as many retirements as previous years; some superintendents said this could be just the beginning.
Changes to the State Teachers Retirement System have many educators realizing they would lose money if they wait to retire.
Hoskins said a change to cost of living increases influenced her decision the most. If she had waited until next school year to retire, she would have had to wait five years before receiving her annual 2 percent cost of living increase. By retiring before July 1, she will only have to wait one year.
Minster Local Schools has the highest percentage of retirements with 15 percent of its 59 teachers leaving. The board so far has approved six retirements and three retire-rehire requests.
St. Marys has the highest number of retirements - 17 out of 147 teachers - in the Grand Lake area. St. Henry and Fort Recovery are tied for second.
"It's a huge impact on our district and every district in the state is probably feeling it," Celina superintendent Jesse Steiner said of the 15 retirements announced in his district. "I would expect to see that same number again next year ... The face of Celina is going to change a lot next year."
The STRS Retirement Board and state legislators last year approved the system overhaul to make up for diminishing funds. The 2008 recession, the slow economic recovery and members living longer caused a reduction of available funds to pay accrued liabilities, STRS spokesman Nick Treneff said.
"If no changes were made, STRS eventually wouldn't be able to pay benefits," he said.
Gov. John Kasich signed the pension reform bill into law in September.
In addition to the cost of living changes, all teachers in July will begin contributing more to their retirement. Teachers now pay 10 percent of their paychecks into retirement. In July, that amount will increase to 11 percent and will climb 1 percent every year until 2016.
"That's big because salaries aren't going up," Steiner said. "Instead, what they take home is going to be less; it'll be less in the pocket at the end of the day."
Schools contribute 14 percent to each teacher's retirement, as required by state law.
Another round of changes will be implemented in July 2015, and with it, another batch of retirements are expected. The changes include a gradual increase in minimum years of service before a teacher is allowed to retire.
Teachers currently can retire and receive unreduced benefits after 30 years of service, regardless of age, or at age 65 with at least five years of service. After July 1, 2015, the required minimum years of service gradually increases. By Aug. 1, 2026, a teacher must be at least 60 years old with 35 years of service to receive full benefits.
Also, under the current system, teachers who retire after 35 years receive a years-of-service bonus. On July 1, 2015, that bonus will be eliminated.
St. Marys vocational agriculture teacher Jack McBride said he hoped to retire after 35 years. However, with the coming changes, he submitted his retirement this year after 32 years of service.
"There was no way I could get to that (35 years)," he said. "If I retire now, I'll make more money than if I wait a year."
McBride said he understands why the changes were needed, but said the state should give the teachers a voice when deciding their retirements.
"They (STRS) need to do what they have to do to make the system work, but when you mess with the system like that ... and you force people to retire, it's not good," he said. "It's frustrating when they do some of the things they do, and we don't have any say in the matter."
McBride pointed out the changes may not technically mean a forced retirement, but it's very close.
"No one has to retire if they don't want to, but they've made it so the teachers feel like they don't have a choice," he said.
Hoskins said she understands why the changes were needed.
"I guess I'm one of the lucky ones to have reached that end mark," she said. "So I'm going to be OK."
With the loss of so many veteran teachers, districts can use the opportunity to cut the budget through attrition.
Minster superintendent Brenda Boeke said school officials are looking into reforming classes to better match what students need today. A business class may be switched to a math and technology class due to the business teacher retiring.
"The changes to retirement cause every district to evaluate their needs and make decisions that are best for the district, and individuals will make decisions based on what's best for them," Boeke said.
In St. Marys, the retirement changes could not have come at a better time, according to superintendent Shawn Brown. The district's 17 retirements has allowed the board to approve $760,000 in operating budget cuts through attrition for next school year.
Districts also will save money by hiring less experienced teachers. But hiring inexperienced teachers also may come at a price.
"They've been to college and maybe learned new tricks ... but you're losing great experience and ... experience really does mean a lot," Brown said.
Steiner agreed.
"It's a double-edged sword," he said. "You have a lot of great teachers, but they're also at the top of the pay scale, and hiring someone right out of college, you save a lot of money."
Treneff said the state currently has 400 to 500 more retirements - 2,700 - than at this time last year. Treneff noted the STRS office receives most notices between June and August and typically receives about 6,000 by August.

Local retirements:
Minster Local
59 total teachers
6 retirements
3 retire-rehires
15.25 percent of teaching staff retiring

Fort Recovery
64 total teachers
6 retirements
2 retire-rehires
12.5 percent of teaching staff retiring

St. Henry Local
72 total teachers
9 retirements
12.5 percent of teaching staff retiring

St. Marys City
147 total teachers
17 retirements
11.6 percent of teaching staff retiring

Marion Local
54 total teachers
5 retirements
9.3 percent of teaching staff retiring

Celina City
200 total teachers
15 retirements
7.5 percent of teaching staff retiring

Coldwater Exempted Village
94 total teachers
5 retirements
5.3 percent of teaching staff retiring

Parkway Local
76 total teachers
4 retirements
5.3 percent of teaching staff retiring

New Bremen Local
60 total teachers
3 retirements
5 percent of teaching staff retiring