Saturday, May 4th, 2013
NetDogs suffer first WBL tennis loss
By Ryan Hines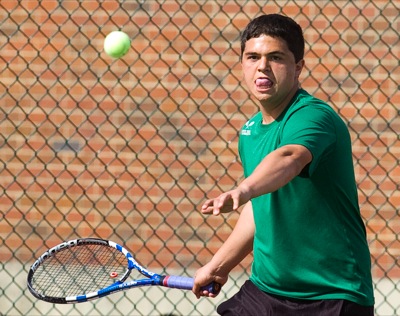 Compiled by Ryan Hines

SHAWNEE TOWNSHIP - Shawnee's boys tennis team likely clinched the Western Buckeye League title for the sixth straight year after knocking off Celina 4-1 on Friday in a battle of league unbeatens.
The Indians (11-2, 7-0 WBL) still have Ottawa-Glandorf and Defiance remaining on the regular season schedule, but Shawnee will be heavy favorites to defeat the Titans and Bulldogs. Celina (11-3, 7-1 WBL) wraps up its league slate today with a home match against Ottawa-Glandorf.
Although disappointed with the defeat, Celina head coach Toma Hainline remains positive.
"First of all, I'm still very proud of them to get to this point undefeated and playing for what I think is the WBL championship," said Hainline, who coached the Bulldogs to their last WBL title in 1995.
Celina's lone victory came at first doubles where Isaac Elston and Kris LeJeune won 6-2 and 6-1 over Josh Thomas and Scott Jettinghoff.
"I couldn't be any happier with the way that Isaac and Kris played today at first doubles," said Hainline. "Isaac had fire in his eyes before the match and I know that Kris was nervous before the match but I thought they both played well. I think that Shawnee's doubles team was surprised with how aggressively our kids played. I thought that we served well and that was key. They just played aggressive tennis in both sets."
At second doubles, Keaton Mohler and Joel Weitz won the first set 7-6 (7-3) before losing the next two sets, 6-4 and 6-3 to Carter Jones and Prudvi Battula.
"I was really proud of their effort, especially in the first set with winning the tiebreaker," said Hainline. "Serving issues really hurt them in the second and third sets and Shawnee played much better in the last two sets."
Shawnee swept the three singles matches.
Alex Seibel lost to Jason Barton 6-0 and 6-3 at first singles.
"I knew it was going to be tough for Alex because their kid is overpowering. Alex gave me everything and that's all I can ask for," said Hainline.
Avinash Rajasekaran shut out Aaron Seibel in the first set at second singles, but Seibel battled tough in the second set before losing 7-5.
"Aaron really came alive in the second set and had a good set. I praised his efforts in the second set and told him that I think that he can beat the kid, he just needs the confidence to do so next week during the tournament," said Hainline.
At third singles, Ruthvick Avvari defeated Hagan Kriegel 6-2 and 6-2.