Friday, May 17th, 2013
Coldwater eliminated by LCC
Division III Sectional at Shawnee
By Gary R. Rasberry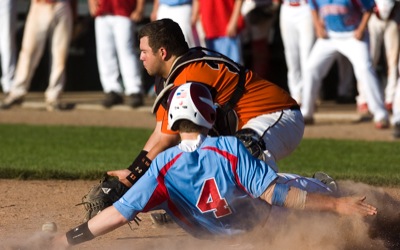 LIMA - The difference in the outcome of Thursday's Division III sectional baseball final was the fine art of answering.
Lima Central Catholic answered when Coldwater got on the scoreboard first, and the Cavaliers could not answer back.
The Thunderbirds ended the Cavaliers' season for a second straight year by winning a sectional title with a 5-1 win at Shawnee High School.
LCC (16-12) will now face Ottawa-Glandorf next Thursday at 4:30 p.m. at the University of Northwestern Ohio.
The Cavaliers, fresh off winning a share of the Midwest Athletic Conference championship earlier this week, ends its season at 22-5.
Coldwater took a 1-0 lead in the bottom of the first inning. Brody Hoying was walked and then stole second base before Malave Bettinger was robbed of a base hit by LCC centerfielder Sam Huffman, who made a diving catch, although the ball appeared to pop out of his glove while hitting the ground. Hoying still managed to score from second base for the first run of the game.
LCC immediately responded in the top of the second inning. After Connor Dee singled and went to second on a wild pitch, Corey O'Dowd singled. Jacob Judy then hit a ground ball and the Cavs got an out at second base, but Judy beat the throw to first base by a step on a double-play attempt and Dee scored the tying run.
"That first run was huge for us mentally," said T-Birds coach John Schnieders. "We talked about getting out to a good start. After (Coldwater) got one run, it was just huge for us."
The momentum carried into the third for LCC. Coldwater pitcher Christian Schramm hit Ethan O'Connor to start the inning before Colin Stolly blooped a single to centerfield. Huffman then tried a sacrifice bunt but the throw to first was wild, loading the bases for Nick Watkins, who was hit by a Schramm pitch to score O'Connor for the go-ahead run.
Coldwater coach Brian Harlamert wasted no time calling on Matt Selhorst to replace Schramm on the mound to get out of the jam. Dee then delivered a sacrifice fly to score Stolly and give the Thunderbirds a 3-1 lead.
"We just couldn't throw strikes that inning," said Harlamert. "That's baseball."
The Thunderbirds used a sacrifice bunt and a sac fly to help score a run in the fourth frame before Tom Judy's pinch-hit RBI single in the seventh inning gave LCC a four-run lead.
"We've played Coldwater enough to know - and I've coached against them on the wrong end (of the decision) enough times to know - that when they get going, it snowballs," said Schnieders. "If you can keep the snowball from happening, it's good. The one thing you can do to eliminate some of their small-ball athleticism - the things that build that snowball - is to continue to add runs and not settle for being up two runs. We got bunts down, ran the bases smart and didn't get any cheap outs. Our guys played a complete ballgame."
Stolly was stellar on the mound and he received solid defense to keep Coldwater offense off the scoreboard. The best scoring threat for the Cavs came in the sixth inning when Mitch Heyne reached on an error and Grant Muhlenkamp singled with one out. Stolly got a strikeout and fly out to end the inning. After giving up a one-out single to Adam Klosterman in the seventh, Stolly then struck out Hoying and Drew Otten flied out to end the game.
"He's really stepped up this year for us," said Schnieders of Stolly. "He's just improved. To get him back being out a couple weeks with a sprained ankle makes us a different ballclub with him on the hill."
"He did a good job. They're a good team," said Harlamert. "He threw strikes and pounded the zone. For the most part, both teams were equally hitting (both teams had five hits), but a few of theirs fell and ours didn't. Tip your hat to Colin, coach Schnieders and their team. They played well.
"(The loss) doesn't diminish how our team played this year with 22 wins and a league title. Unfortunately, the first (tournament) game is the hardest one to win. Our guys are upset now, but our program had a good year. All we can do is go back to work this summer and work hard."