Wednesday, May 29th, 2013
Roar of the engines, camaraderie of group
Motorcyclists live their dream
By Betty Lawrence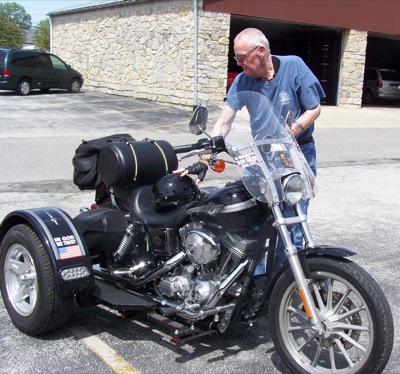 Mel Salsbury purchased his first Harley-Davidson motorcycle when he retired a few years ago. He says he is living "the dream" shared by many.
"Every guy, some time or another, wants to own and ride a Harley. It's just the way it is and almost unpatriotic to not ride one," Salsbury said. His current ride is a 2013 Screamin' Eagle Ultra Classic Electra Glide.
About six months ago Salsbury, of Cridersville, and fellow interested motorcyclists kicked off Harley Owners Group Chapter #3815, Mendon. The chapter is sponsored by Jim's Harley-Davidson Sales in Mendon and is affiliated with the National Harley Owners Group (H.O.G.). The local chapter meets monthly at the Old Farm Store in Mendon; membership is open to any national H.O.G. member.
"We're a social group for people riding Harleys. We get together to discuss upcoming rides and activities that the members want to get involved with," he said. The group rides can be afternoon only, or weekend or even overnight. Destinations can include a restaurant, a scheduled event such as a poker run, or simply a scenic ride.
Upcoming rides include a touring rally along the Ohio River from Steubenville to Cincinnati and a trip to Wetzelland 27th Swap Meet in Van Wert.
Salsbury is the chapter's first director and Doug Sommer is treasurer.
Sommer, 64, of Celina, said he purchased his first Harley in 1972 and never looked back. He currently rides a black Harley-Davidson Dyna Super Glide with trike attachment.
"Motorcycling is the best way to travel. If you want to take a long ride, go to North Carolina, it's the best riding state," he said.
He has taken many trips over the years, including a cross-country jaunt that included a stop at the famous Sturgis Motorcycle Rally in Sturgis, South Dakota.
"Riding a Harley gets in your blood," he smiled.
The chapter's membership officer Kevin Geise, of Fort Loramie, agrees.
"My passion for motorcycles goes back 30 years as a kid growing up on a dairy farm near Fort Loramie," he said. He now rides a 2005 Harley Ultra Classic.
Joining a chapter is a way for like-minded people to get together and know one another for fellowship, riding and just having fun, he added.
"One of the most enjoyable things about being out on that Harley is the people you meet on the way. It is neat to pull into a gas station and have a person come up and tell you about that old Harley they rode years ago. You can still see the passion in their eyes as they tell you their story. I don't think that passion ever goes away," Geise said.
"We're (Mendon chapter) up to 39 members. It's a good start and we want to grow," Sommer reported, adding several of the founding members have had special training in operating a H.O.G. chapter. Sommer also is a member of the Piqua chapter.
The Mendon chapter also has a few female members.
Vicki Macy, of Linn Grove, Ind., rides her own Harley.
"I've been riding a bike since I was 16. I grew up with four brothers and it just seemed natural to do," Macy said. She and her husband, Bryan, put 3,000 miles on a recent trip, visiting 12 states.
On a recent, chilly Saturday when the group was pulling out for a weekend ride, Macy donned her helmet and smiled.
"Riding a bike is just a different experience. You see things different and meet a lot of new people," she said.
Singing the same song, only another verse, was the chapter's secretary/editor Rick Boggs.
"As soon as you throw your leg over a Harley-Davidson motorcycle, you can't help but think of all the history and the American pride that is involved with a Harley," he said.
"You will never meet a stranger on a Harley. You become family and have a special bond to everyone that owns a Harley-Davidson."
Boggs, of Willshire, began riding in 1970. After a bad accident a year later, he did not ride again until 2005.
"That's when I just had to buy a Harley and I have been riding very serious since then," he said.
Salisbury sums it up well.
"Riding a bike gives people a feeling of freedom and a connection to the environment around us. It's kind of like the dog hanging its head out of the car window or riding in a convertible, only more intense," he said.
The next meeting of the Mendon H.O.G. chapter is 10 a.m. June 15 at the Old Farm Store.
For information on membership, contact Kevin Geise at kjgeise@yahoo.com. or call Jim's Harley-Davidson shop at 419-795-4185.