Wednesday, May 29th, 2013
Bruns ready to pitch in NCAA tournament
St. Henry grad named MAC tourney MVP
By Gary R. Rasberry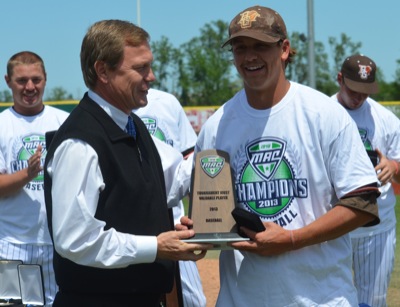 For the first time in over 10 years, the Bowling Green State University baseball team will be heading to the NCAA baseball tournament, thanks in large part to Nick Bruns.
The St. Henry graduate and Falcons senior pitched his team into the 64-team field and earned Mid-American Conference Tournament Most Valuable Player honors after Sunday's 7-0 win over Ball State in Avon.
The Falcons are the unlikely member of the NCAA tourney field with a 24-29 record. BGSU needed to beat Buffalo in the regular-season finale just to make the MAC tournament.
"It all started with that Saturday game against Buffalo," said Bruns via telephone after practice on Tuesday. "We knew we needed to win one game (after losing Friday to the Bison). That Saturday, Senior Day, I came in and threw two scoreless (innings), then (Matt) Pitzulo (singles in) the game-tying RBI, then scores the winning run (on Patrick Lancaster's triple). Ever since then, it's been a different team: the atmosphere in the locker room, on the field and off the field."
The win allowed the Falcons to get into the six-team MAC tournament as the sixth seed. Bruns got the win in relief against Northern Illinois, and then after splitting two games with Toledo, Bruns got the save in the must-win game over the Rockets on Saturday to make the title game against the Cardinals.
That evening, BGSU pitching coach Rick Blanc came up to Bruns at dinner with a question.
"Coach came up and asked me how I felt," said Bruns. "I said 'Good." and he said 'You got the ball.' I was excited to start again. I had one spot start during the season but haven't started (regularly) since my sophomore year when I was the Saturday guy. They always trusted me with the ball, so I thanked them for the opportunity."
Bruns did not let his team down, throwing 91 pitches, walking one and throwing a four-hitter as the Falcons scored all seven runs in the fifth inning.
"It was a very special feeling," said Bruns. "My brother Phil (who played college baseball at Ohio Northern) kept reminding me when (St. Henry) won state in 2003, he had the opportunity to start the championship game. I was actually a little baseball manager on the team. ... He told me the worst feeling ever is walking off that field for a final time. That thought process crossed my mind. I told myself I was going to leave it all on the field and not leave any regrets."
Bruns, who went 2-0 with a save in the MAC tournament, still can't believe he was named MVP.
"I don't know if it hit me yet," said Bruns, who added the honor of being named National Pitcher of the Week by Collegiate Baseball Newspaper. "I would say it's an awesome feeling. A special accomplishment. I'm still soaking in that we're MAC champs."
Quickly after the game, the accolades from friends, former teammates, family and coaches rolled in.
"It was such a special feeling," said Bruns. "I had 30-some text messages coming back from the game. Twitter is blowing up. Coach Dorner (St. Henry coach John Dorner), Neil Schmitz (St. Henry assistant coach and former BGSU pitcher), all my friends from back home, old teammates... It took me 15 minutes to finally respond to everyone. It was a special moment."
Bruns is 6-2 on the season with a 2.32 ERA. In 50 1/3 innings, Bruns has struck out 42 batters and walked just 16.
Bowling Green will now make the trip to Louisville for the regional tournament, facing the host Cardinals on Friday at 6 p.m.
The trip to Louisville will be full circle for Bruns, who made his collegiate debut as a freshman in Louisville, a 3 2/3 inning relief appearance where he allowed eight runs and nine hits in a 13-1 Cardinals win.
"It's kind of crazy to go down to Louisville again," said Bruns. "I started my college career with a night game with Louisville. It's kind of cool I get to go back there, and hopefully go out with a bang."
The biggest thing is that Bruns' family will get a chance to see him play.
"All of our families get to come down and see us," said Bruns. "I can't thank my family enough for putting miles on their cars to make trips to Northern Illinois, Buffalo, Florida... Wherever I might be, they're there."

Season statistics:
Nick Bruns' pitching statistics for Bowling Green State University.

App. Inn. W-L Saves ERA H BB SO
28 50 1/3 6-2 6 2.32 43 16 42

Next game: at Louisville, Friday, 6 p.m.