Thursday, May 30th, 2013
Governor blames lawsuits
State money may go to flooding settlements, not lake treatment
By William Kincaid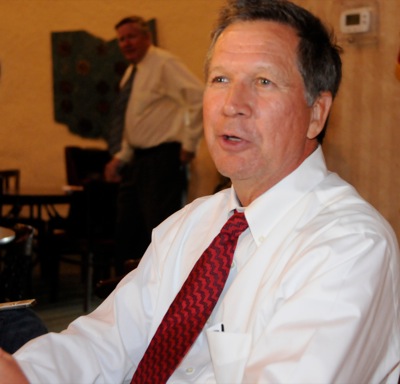 NEW BREMEN - Gov. John Kasich says lawsuits filed over flooding from Grand Lake's West Bank spillway may divert the flow of state money toward treatment of the distressed lake.
Kasich addressed the lawsuits with reporters on Wednesday night before speaking at the Auglaize County Women's Republican Club Lincoln/Reagan Day Dinner at the New Bremen American Legion.
"Those lawsuits could take money away from the treatment of the lake because there is only so many dollars to go to each of these facilities," Kasich said. "So I hope these lawsuits are going to work their way out. Instead of putting money in people's pockets that live near a lake that from time to time they may see some flooding on their land - and maybe not that extensive - I'd rather put the money into fixing the lake."
In 2011, the Ohio Supreme Court ordered local jury trials to determine compensation amounts for the 80-plus landowners who won a lawsuit blaming the state's spillway for increased flooding to their land. The first trial was in January, with landowners Wayne and Janet Doner awarded $1.9 million for 222 acres; their land also will be recorded as a permanent state flowage easement. The state did not appeal the verdict.
More than 50 compensation trials are expected.
The lawsuits will cost the state millions and millions of dollars, Kasich said.
"Hopefully we can have these lawsuits looked at in a different way, particularly by juries of people that live there," he said. "Reasonable settlements are fine. But you know, when it gets to be a money-grab, you're just grabbing money from what we can do to keep the lake healthy."
Kasich wants the lake to be open and clean, but he said there's a limit to how many dollars can be spent.
"Particularly if we're putting it into the hands of people who are suing us," he said.
Farmers are cooperating with the state to attempt to prevent manure runoff that causes algae blooms, Kasich pointed out. Phosphorus in the manure feeds toxic algae in the lake. The state funded two alum treatments on Grand Lake in 2011 and 2012 at a cost of more than $8 million. Alum makes the phosphorus unavailable to algae.
"But this is a problem we see all over the state, and we see it a little bit in Lake Erie, and it's important to us," he said. "But you just hate to spend money on lawsuits that were filed years ago with big settlements that keep us from having the resources to treat the lake."
Ohio Department of Natural Resources Director Jim Zehringer said tools are in place to ensure farmers are complying with new manure management standards.
"We have local soil and water groups that hired more people to go around and make sure the farmers are in compliance," Zehringer said. "They look at the records and they look at the soil tests."
The state is pushing for compliance on Lake Erie too, Kasich added.
"We're working with the folks up on Lake Erie in that watershed in five counties that we're targeting to try to help the nutrients stay on the fields," Zehringer said.
Kasich also spoke about the pending budget bill, education funding and his push for the expansion of Medicaid in Ohio.
State senators on Tuesday pulled what's left of Kasich's proposed income tax cut from Ohio's budget plan in favor of tax relief targeted at small businesses.
The Ohio House had retained 7 percent of the 20 percent permanent income tax cut originally proposed by Kasich. The Senate chose to restore a small business benefit also pitched by Kasich. That proposal would allow individuals to deduct up to $375,000 in net annual business income for income tax purposes.
"I think it's coming along. There's a lot to be filled in," he said of the budget, noting he has a good relationship with Senate President Keith Faber, R-Celina. "I like the fact that there's going to be a small business tax cut. That's just huge for small businesses across the state, and I think there'll probably be more tax cuts. It's just a lot of things in motion. But I feel pretty good about where things are."
Regardless of the final funding formula for K-12, the state will see an increase of $1.2 billion or more and the dollars will follow the pupils, flow into the classroom and be distributed based on the schools' ability to pay and support their own district, he said.
"And at some point we have to deal with the fact that we can't just keep sending money to schools that don't have students," Kasich said. "If the student population shrinks, then if you don't divert some of that money and get the schools into restructuring, then there's some other district that's not getting what they deserve based on population growth."
The education formula comes as part of an educational reform package that includes the third-grade reading guarantee, teacher evaluations and expanded vouchers.
"I'd put our school reform up against any other state in the country," he said.
Kasich said he feels very strongly and passionately about expanding Medicaid in Ohio. Communities need resources to help those with mental illness and drug addiction, and when the working poor get their health care in an emergency room, it drives up the cost of health care on everybody, he said.
"We want to help people that need help but we don't want to help people who need to learn how to help themselves and that's a balance," he said.