Thursday, May 30th, 2013
Parkway one win from state
Division IV Softball Regional at Findlay
By Ryan Hines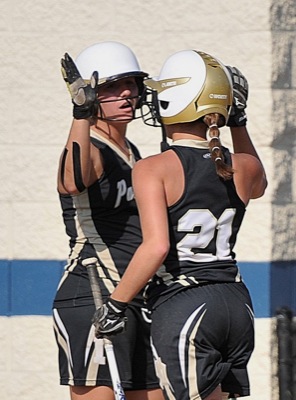 FINDLAY - Parkway's softball team broke a 2-2 tie with a four-run third inning and Panthers pitcher Sierra Fent escaped several jams in the later innings en route to a 7-4 win over New Riegel in Wednesday's Division IV regional semifinal at Findlay.
The Panthers (21-5) advance to Saturday's regional final at noon and will face the winner of today's Edgerton-Fremont St. Joseph matchup.
"That one more (win) is the hardest. But, I feel really good about the win today," said Parkway head coach Mark Esselstein, who guided the Panthers to the state tourney in 1997 and 1998. "For all the years I've been coaching, I've always wanted to get a state championship for the ones who came close. We have a long way to go, but I feel like we have a team that can do it."
"I'm really excited after losing in the district finals the last three years," said Parkway senior Kylie Snyder, who was 2-for-4 at the plate and made two diving catches for outs defensively at first base. "I couldn't be more excited right now. I'm not sure when my voice will be back to normal after all of the screaming I did in the game."
Snyder wasn't the only one screaming throughout the game as Parkway's fans were on the edge of their seats watching their Panthers dodge several bullets to secure the win over New Riegel (22-8).
The Panthers scored twice in the first inning with a pair of hits and took advantage of two New Riegel errors to grab an early 2-0 lead. The Blue Jackets then rallied with two runs in the top of the third inning to knot the score at 2-2.
Parkway then answered with four runs in the bottom of the third inning. Snyder's RBI double scored Kayla Walls to give the Panthers a 3-2 lead and Fent then drove home Snyder with an RBI single. After a double by Lindsey Walls, Terra Walls (fielder's choice) and Ashlynn Henderson (double) drove in the final two runs.
"When a team scores, you want to answer and we did a great job of doing that. We kept pressure on them and their defense pretty much every inning," said Esselstein.
"It was a huge inning for them to come back and score four runs and it's tough to come back from that," said New Riegel head coach Jamie Lininger.
Although New Riegel had multiple runners on base in each of the last five innings, Fent was able to limit the Blue Jackets to just two runs.
New Riegel was trailing 6-4 in the sixth inning and had the bases loaded with just one out and Taylor Kirian at the plate. Kirian set a state record with 18 home runs this year and had driven in 63 runs (two shy of tying a state record).
Fent won the battle with New Riegel's top offensive weapon as Kirian hit a ground ball to Terra Walls at third base and she fired home to Zoey Pond to record the second out of the inning. Morgan Noftz, who had already singled twice in the the game, then hit a slow roller to second base and Lindsey Walls threw to first to end the threat.
"We couldn't ask for a better scenario. We had a girl up that hit 18 home runs this year, which is a state record. She's the best hitter in the state and to have her up with the bases loaded with one out, you couldn't think of a better situation for us to be in. It was the one time where she didn't come through," said Lininger. "We put her (Fent) in a lot of tough positions, but she did a good job to get out of jams. We had runners in scoring position several times tonight, but we just weren't able to come up with the big hit."
"I didn't like Kirian coming up with the bases loaded and having to pitch to her, but Terra Walls made the play and Zoey hung in at the plate," said Esselstein. "Her (Fent's) game plan was to keep the ball in on her (Kirian). Keeping her inside the fence is a big deal. Sierra is a battler."
Parkway then stretched its lead to three runs in the bottom of the sixth when Terra Walls ripped an RBI double to score Lindsey Walls.
A three-run lead is never safe against a team that had hit 35 home runs this year, but Fent was up to the task. Although Fent hit a batter and walked another to bring the tying run to the plate in the seventh inning, her 139th pitch of the game was a groundout to send the Panthers fans into a frenzy.
Fent allowed four runs (three earned) on eight hits with six walks and six strikeouts.
"Sierra did a great job and I'm really proud of her," said Snyder. "As a pitcher myself, I was super excited for her because she was able to settle down when they had runners on base and our defense did a good job of not allowing them to score in some big situations."
Kayla Walls, Snyder, Fent and Lindsey Walls each had two hits as part of Parkway's 10-hit attack.
"Kids really stepped up and hit the ball well today. We left the bases loaded a few times (fourth and fifth innings) and left a few runs out there, but we got the job done," said Esselstein.