Saturday, June 1st, 2013
Old friends still get together to talk, play baseball
By Robb Hemmelgarn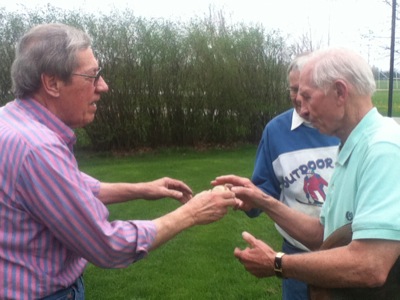 As Whitey Klosterman, Hazen Davis and Bud Preston surround the oval table in the middle of Klosterman's kitchen, the three men entertained all kinds of topics in a nearly hour-long bull session earlier this spring.
The conversation weaved between the weather, vintage automobiles and grandchildren, but no topic conquered the room nearly as much as when things turned to baseball.
Although the current state of the Cincinnati Reds and Grand Lake Mariners was touched, special attention was given to reminiscing about local teams from the 1950s and 1960s and the countless recollections that emerged from that era.
"That was all there was to do back in those days," commented Davis, who played three years in the Cleveland Indians minor league organization in the 1950s. "High schools had sports, but it was limited mostly to just football and basketball. The smaller schools that didn't have football, had baseball in both the fall and spring. After high school there was plenty of baseball played in the area. Once the Korean War broke out and dirt track racing became popular, though, it really seemed to take down the attendance at the local baseball parks."
The three swapped stories between sips of Gatorade and leafed through a pile of yellowed newspaper clippings and scrapbooks, while throwing around the names characters that long ago shaped our local baseball traditions - Buzz Schamp, Kahle McComb, Wally and Ed Post, Jerry Obringer, Dan Briner, Barney Reichert, Dicks Walls and countless others.
"We were surrounded by a lot of great baseball men back then, many of whom played and coached in the minor leagues at one time or another," recalled Preston, who documented the history of baseball around the Franklin Township and Montezuma area. "The games always had a lot of people, sometimes close to 1,000 depending on who was playing. The Montezuma Ducks were in a league with teams from all over the area including Celina, Coldwater, Fort Recovery, St. Henry, North Star, Versailles and Minster. Our diamond was right across from Bayview outside of Montezuma with home plate right next to State Route 219 facing east. Rightfield was lined by a fence row and leftfield ran into a heavy woods. It was definitely a unique place to play."
Klosterman lettered in baseball at Coldwater High School for four years before suiting up for the Ducks and later in the military where he played catcher for his base overseas. More recently, he wrote a manual for catchers as well as mentored several high school players who aspired to fulfill their careers behind the plate.
"There truly is an art to being a good catcher," he explained while adjusting an aged mitt to his hand. "So many catchers place their hand behind their back when they are crouched down, when really they should have it resting over their other wrist behind their mitt. This allows you an extra second to get your hand around, which in that amount of time can mean getting a base runner out at second."
After nearly an hour of light-hearted bantering and debate, there was an uncharacteristic pause in conversation before Whitey interrupted things by grabbing his mammoth catcher's mitt and signaled to the others that it was time to head out back for a game of catch. Filing out of the back of the house, the three were greeted by a sea of lush green grass, while at the rear of Klosterman's property awaited a mound with the dual purpose of teeing up a golf ball or a make-shift pitcher's mound.
"Once the weather breaks, Hazen and I get together regularly and toss the ball back and forth," smiled Klosterman, as Davis interjected - "We are up to 90 miles-per-hour now too - 45 one direction and 45 the other."
Klosterman and Davis situated themselves about 40 feet apart from one another and for the next 15 minutes, the two of them refused to let Father Time spoil the moment, as they tossed the ball back and forth like a couple of 15-year olds. As the weathered ball slapped into their gloves, their smiles grew wider and wider as they proudly displayed their theory of throwing the ball 90 miles per hour.
"It is all in the wrist," Davis proclaimed. "A good fastball has a lot of snap in the wrist like a whip."
Preston soon joined in on the fun as passers-by slowed down to examine what the heck was going on. When things wound down between the three 80-something year-olds, they all quietly headed back toward the house. For the second time in that hour, Klosterman broke the silence as he patted both Davis and Preston on the shoulder and uttered rhetorically,
"Days like today are exactly why I love these guys," said Klosterman.