Tuesday, June 4th, 2013
Fire destroys barn
Seven departments respond to blaze; smoke visible from miles away
By Shelley Grieshop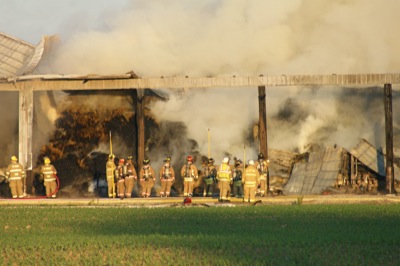 ST. HENRY - Plumes of smoke hung in the air for miles this morning as dozens of firefighters battled a barn fire near the village.
The large, steel barn at 3920 state Route 119 and its contents - including a planter, several hopper wagons and bales of ryegrass - were deemed a total loss. A damage estimate was placed at $300,000.
The owners of the dairy farm are Jim and Janice Broering. No injuries were reported and the cause remains undetermined, according to St. Henry Fire Chief Matt Lefeld. No other buildings were damaged.
"The family said they had recently put the rye grass in the barn," he said.
The St. Henry department and six other area units responded to the fully engulfed blaze shortly before 6 a.m.; three departments remained at the scene at press time today. A stream of fire trucks lined state Route 119 and neighboring driveways as approximately 50 firefighters hosed down the smouldering barn at the rear of the property.
Lefeld said Jim Broering reported the fire to Mercer County Central Dispatch. Prior to the arrival of fire trucks, the family salvaged a tractor and hay mixer from the inferno.
This isn't the first time firefighters responded to a barn fire at the Broering farm, Lefeld said.
"Their main barn went down, I think, about 2000," he said. "We were able to save the (nearby) milk house."
Assisting this morning with mutual aid along the busy highway between Wessel and Burkettsville-St. Henry roads were firefighters from Coldwater, Burkettsville, Chickasaw, North Star, Montezuma and Southwest Mercer. Also called to the scene as a precaution was the St. Henry squad, as well as Mercer County Emergency Response Volunteers, who helped with traffic control.