Tuesday, June 4th, 2013
St. Henry cruises past Celina in six innings
By Gary R. Rasberry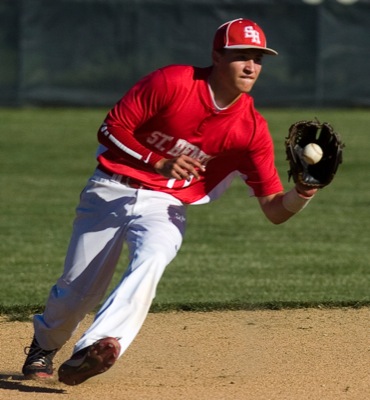 ST. HENRY - Celina's early defensive errors allowed St. Henry to build a lead and the Redskins then took advantage of walks by the Bulldogs' pitchers to earn a 13-3 six-inning win in the ACME season opener for the Red and White on Monday at the Wally Post Athletic Complex.
The Bulldogs, who swept New Bremen in a doubleheader on Saturday, drop to 2-1.
St. Henry had a pair of runners on base with two outs in the first inning when Ryan Mikesell lofted a fly ball to rightfield that caromed off the glove of the Celina fielder for an error which allowed D.J. Kunkler and Briar Holloman to score for the Redskins. Mikesell then put St. Henry on top 3-0 after scoring when Jim Jansen reached base safely on another Celina error.
The Redskins picked up four more runs in the second inning to grab control of the game. One run scored on a Celina error when Garrett Stout's sacrifice bunt attempt was dropped before Holloman connected for a three-run triple. Holloman later scored on a wild pitch.
"I was impressed with the guys at the plate," said St. Henry coach Brad Heitkamp.
After a scoreless third inning by the Redskins, St. Henry tacked on another run in the fourth when Holloman doubled and went to third on a fielder's choice before scoring on Celina's third error of the game.
"It's always hard to win a game when you have errors," said Celina coach Todd Steinbrunner. "We're a young baseball team this year. We only have two seniors that are starting, and another that's hurt. We're starting several freshmen. It's a good experience for us, but regardless, you can't make errors like that."
An 8-2 advantage was more than enough run support for St. Henry starting pitcher Brian Kremer, who allowed three runs on seven hits over six innings, walking three and striking out four.
"He struggled early with high pitches," said Heitkamp. "When he kept it low, he was on fire."
St. Henry put the game on ice in the sixth against Celina relief pitcher Seth Lonsway. Lonsway walked five of the seven batters he faced without getting an out, and Stout's RBI single scored Austin Bills to give the Redskins a 10-run lead which ended the game in the sixth inning.
Holloman and Kunkler each went 3-for-4 with the pair combining for five runs scored. Stout and Kremer each had two hits while Bills drove in two runs with a single in the sixth.
Skylar McCarter went 2-for-4 with a triple and double for Celina. Cody Vogel also tripled with Jacob Homan adding a double.
Both teams are back in action tonight. St. Henry hosts Parkway while Celina travels to Fort Recovery.