Thursday, June 6th, 2013
Almost like the real thing
Local police officers, deputies receive simulator training
By Margie Wuebker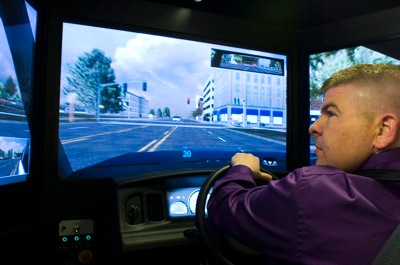 A fraction of a second can determine whether a law enforcement officer returns home safely from work.
That is the message Ohio Police Officers Training Academy instructors John Reedy and Ryan Born are sharing this week with deputies and police officers from throughout the area.
Simulators are providing life-and-death scenarios related to gunfire and driving habits.
"The leading causes of death for officers in the line of duty are accidents and shootings," Reedy said. "Hopefully the information gained through the experience and the pieces of seconds saved in critical incidents will mean the difference between their lives or someone else's."
Statistics from the National Law Enforcement Officers Memorial Fund show 119 officers died in the line of duty in 2012. Two of them were from Ohio - Willoughby policeman Jason Edward Gresko lost his life in an auto accident and Akron officer Dennis Mancini was killed by gunfire.
The simulators offer realistic scenarios relating to traffic stops, domestic violence calls, burglaries and traffic accidents. Sometimes suspects are armed and other times pedestrians or motorists fail to respond to lights and sirens.
"Officers have an opportunity to react appropriately in a setting that allows them to reset and try again," Reedy said. "Ninety-eight percent of the time officers will not face these scenarios on the job. However, they are able to experience what takes place when the other 2 percent arises."
One simulator places participants in situations where they have to use verbal skills, pepper spray, Tasers or service weapons equipped with infrared lasers to diffuse dangerous situations. Feedback is part of the one-hour process.
"It's nice to go through these kinds of 'real life scenarios' especially with the events that are happening in today's times," said road deputy Deric Kroft. "Every situation is different but it gives us an idea of what could happen. It makes you stop and realize just how precious life is and how much a split second can make on decisions."
Fellow road deputy Mike Link believes the shooting and non-shooting scenarios will make a difference in how he responds to calls.
"We were able to gain experience from this situational training that we would normally not receive unless it was a real-life situation," he said.
Link also had words of praise for the one-hour driving simulation presented by Born.
"I personally learned a great deal about cutting the intersection into sections in order to make crossing safer," he said.
Born said police officers and deputies drive so much during the performance of their everyday duties that they can become complacent.
"Complacency can lead
to bad habits," he said "These simulations show it's more about driving the safest and not always the fastest."
The training is compliments of Ohio Attorney General Mike DeWine, who earmarked the 2 percent share his office receives from Ohio casino funds for the purchase of the simulators. Local law enforcement agencies pay nothing.
The simulators were put into service in December and Mercer County Sheriff Jeff Grey immediately put in a request for the training.
Mercer County is the home of the 14th session. Grey believes the timing of the visit is especially appropriate given a recent incident in Celina that resulted in a police officer's shooting an armed suspect.
"The world is getting crazy," Grey said. "Hopefully, we will never use what we learned, but if we have to, we are better prepared for it."