Thursday, June 6th, 2013
Rockford woman marks milestone 100th birthday
By Betty Lawrence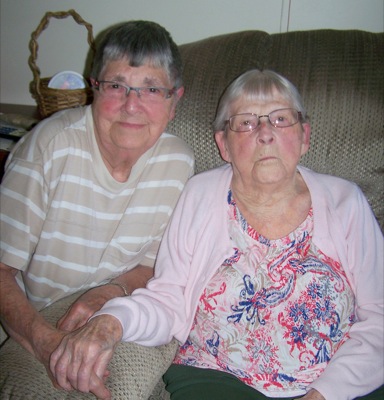 Eunice Profit, currently residing at Colonial Nursing Center in Rockford, is marking her 100th birthday today.
She was born June 6, 1913, near Spencerville, to Grover and Viola Bowersock.
Her parents were farmers and Eunice also married a farmer, Keith Profit, on Oct. 27, 1933. The newlyweds settled down to a life of farming on their homestead in Van Wert County, where they raised a son, Larry Profit, and daughter, Kathryn Smith, both of Van Wert County. Her husband preceded her in death in 1996. She has three grandchildren, six great-grandchildren and one great-great-grandson.
"There was always work to do on the farm. We had beef cows, hogs, sheep and chickens and raised our crops. I always had a garden also," Profit recalled, adding that she has always liked to cook, especially making homemade bread. Cherry pie and rhubarb cobbler are her favorites.
Leisure time for the family meant fishing on Indian River in Michigan, and later it became winters in Florida. Thirteen brothers and sisters were in her family, and her 95-year-old sister, Mary Jane Conrad of North Carolina, plans to visit her today.
"Mary is coming up to see me on my birthday and I can't wait to visit with her," Profit smiled.
"My parents had it rough, raising 13 children. Two of my brothers were killed in World War II and two came home. It was a trying time and I still tear up when I think about it," Profit said.
Still sharp as a tack, Profit lived at her home until just a few years. She had suffered a fall and eventually came to reside at the Colonial facility. She spends her days relaxing and watching the birds at the feeder just outside her window. She also enjoys bingo and reading. She is a member of Kingsley United Methodist Church.
"I tell everyone the same thing about living to be an old age. Don't smoke, don't drink, and stay away from fast men," she grinned.
Cards would be appreciated and may be sent to her at: Colonial Nursing Center, Attn. Eunice Profit, 203 Buckeye St., Rockford, OH 45882.