Saturday, June 8th, 2013
Parkway falls at state to Colonel Crawford
By Gary R. Rasberry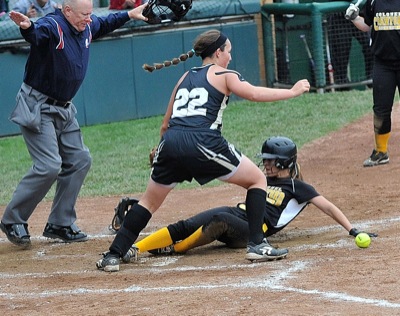 AKRON - Just when it looked like the Panthers were gaining the advantage, the momentum swung so quickly that there was the potential of whiplash.
Colonel Crawford took advantage of three Parkway errors in the top of the third inning to score four runs and the Eagles ended the Panthers' season with an 8-1 win in the Division IV state semifinals on Friday at Firestone Stadium in Akron.
The Eagles (19-9) will take on Strasburg-Franklin today at 1 p.m. in the D-IV state championship game. The Tigers knocked off top-ranked and unbeaten Covington 3-0 in the first semifinal of the morning.
The Panthers, playing in their first state semifinal since 1998, finished the season with a record of 22-6.
Things were looking good for Parkway early on after taking a 1-0 lead in the second inning. Terra Walls doubled with one out and went to third base on a wild pitch before Ashlynn Henderson drew a walk. Henderson then stole second, with Walls coming home on an errant throw.
Colonel Crawford, though, answered quickly in the third frame. Brenna Brown and Lexi Hoepf led off with back-to-back singles before Kendra Hubson reached base safely on a throwing error to load the bases for Nickyla Garverick. The senior pitcher singled to left to score two runs that gave the Eagles a 2-1 lead.
Bri Rankins followed with an RBI single and Courtney Tinkey drove in another run when reaching base on an error as Colonel Crawford charged to a 4-1 lead.
"We've said all along, especially in tournament, it's big to answer when a team scores," said Parkway coach Mark Esselstein. "For our part, we needed to come back out and shut them down. It's didn't happen. ... Unfortunately, they found places in the defense that were open and scored runs."
"Those runs were so key because Parkway had just scored and had got the momentum a little bit," said Eagles coach Chuck Huggins. "It was key because we were able to answer. I felt our kids were relaxed the whole time and focused, but getting that four-spot meant a lot to our strategy of the whole entire game."
The Eagles didn't let up, scoring twice more in the fourth and once in the fifth to chase Parkway's pitcher Sierra Fent. Parkway then called Kylie Snyder to pitch and Colonel Crawford added a final run in the seventh.
"You get to this level, you can't make four errors," said Esselstein, whose team allowed two unearned runs in the game. "There's a couple of plays where we could have had an out at the plate on a wild pitch and an out at second base ... Tip your cap to Colonel Crawford."
Garverick, a first-team All-Ohio selection, was able to shut down Parkway after the second inning and scattered four hits and two walks over the final five innings, striking out six.
"She was a good speed," said senior first baseman-pitcher Kylie Snyder. "I personally like faster speed, but she was a good pitcher. She was hitting her spots and had a drop ball. She got me on a change-up, so she has a pretty nasty change-up."
Garverick wasl also 2-for-5 at the plate with two RBI while her courtesey runner, Aleisha Scribner, scored twice. Rankins, Tinkey and Brenna Brown each added two hits.
Terra Walls and cousin Kayla Walls - both sophomores - each had two hits for Parkway.
"At this level, there are no losers. I told coach Esselstein that," said Huggins. "There's only 16 teams coming in (to state) out of 800. He needs to hold his head high. That community has a great coach and great program."
"I'm just so proud of these kids," said Esselstein. "There's not another group of kids that I would rather bring to this stage than this group. They've given so much to me, more than I can give to them. They just made the community really proud."