Tuesday, June 11th, 2013
Youth get to work
Employment program receives increased local guidance
By Eric Adams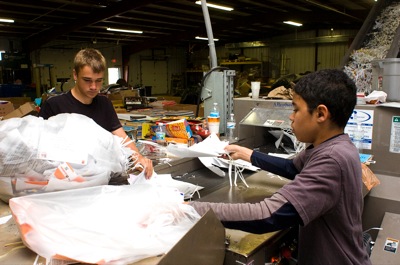 A federal program to help underprivileged youth obtain job experience is now being handled locally by the Mercer County Educational Services Center.
The Summer Youth Employment Program is an initiative of Temporary Assistance for Needy Families (TANF) and helps connect young adults ages 14 to 23 with local businesses, schools and municipal facilities that require seasonal help.
Previously the services for Ohio's Area 8, which includes Mercer, Auglaize, Van Wert and Hardin counties, were under the direction of JobWorks, a private entity based in Fort Wayne.
"Before, they always had somebody covering multiple counties at once, so there wasn't a whole lot of oversight," explained Aaron Fisher, TANF coordinator for Mercer County.
"(The previous director) wouldn't come around much, because she couldn't come around much," added Gregg Rutledge, Marketing and Business Relations Manager for Cheryl Ann Programs. "It was just way too much area for one person."
The ESC assumed the program Jan. 1, after JobWorks withdrew in November.
"We felt that, as an educational agency we were the right ones for the job," said Andy Smith, Superintendent for the ESC. "We have info about where the kids are who need help with this program."
Youth whose families are at or below 200 percent of the federal poverty level may utilize the employment program, which will have workers on sites now through Aug. 31.
Smith said the ESC contracted with Mercer County's board of Developmental Disabilities and Cheryl Ann Industries because they already had established relationships with area businesses. Cheryl Ann also provides supervision at job sites.
About 35-40 employers are participating in the program in each county, with many businesses offering more than one position.
The employee comes at no cost to businesses. Workers are paid through $419,623 in grant monies allocated as follows, Mercer, $88,763; Auglaize, $93,649; Van Wert, $88,630; and Hardin, $148,581.
Seventy percent will go directly to the worker with the remaining 30 percent designated for administrative costs, background checks, working materials for various jobs and other miscellaneous needs, according to Matt Niekamp, Chief Youth Employment Coordinator for Area 8.
"The employer has this free audition to see what these youth can showcase as far as talent, work ethic, reliability, all the qualities they want to see in an employee," Niekamp said. "And when they get somebody good, they hire them."
He added that the program is especially a great opportunity for 14- and 15 year-olds looking to establish a professional reputation.
"This is an attempt to try to instill some pride, work ethic and development: all those other soft skills that go with career building," he said.
Jake Browder, who will be a sophomore at Celina High School, worked a shredding machine last summer at Green Business Solutions in Celina. He looks forward to his second year of seasonal service, which began Monday.
"(The TANF program) is getting me ready for a job ... showing me responsibilities like getting here and leaving at the same time," he said, adding that last year's experience taught him accountability and scheduling skills.
Yumande West, an upcoming freshman at Celina, has worked previously as a paperboy, but looks forward to a more full-time position at the recycling center. His first day was Monday.
"I'm glad I got a job that will help me learn responsibilities for later jobs," said West. "It (will) help with waking up on time."
Other positions offered in the program include maintenance and custodial work at schools and municipalities, landscaping at nursing homes and helping elderly members of church congregations who are no longer able to clean their homes.
Brian Engle, executive director at Foundations Behavioral Health Services in Celina, offered high praise for the office assistant who has been working there roughly two weeks.
"It's been great, she's really ambitious and wants to work," he said. "It doesn't matter what things we have to do that day, she is ambitious and very versatile... we've had her do all kinds of things."
Engle said the assistant's responsibilities include cleaning out cabinets and organizing office supplies as well as filing, scanning and shredding documents. He already knows he would participate in the program again.
Niekamp said the Summer Youth Employment Program will work in conjunction with year-round WIA (Workforce Investment Act) services thanks to the ESC's guidance. These services include occupational skill training and job shadowing, as well as tutoring, study skills, dropout prevention, comprehensive guidance and counseling.
"Once these youth have a (recognition) of other supportive services, we can do some things to start working with them," he said. "(And) who better to do that than somebody who's already connected with the schools?"
Fisher and Rutledge said they are still looking for a few businesses to participate in the program, especially those that can offer employment for 14 and 15 year olds.