Tuesday, June 11th, 2013
Minster's Niemeyer repeats as baseball Player of the Year
St. Henry's Dorner selected Coach of the Year
By Gary R. Rasberry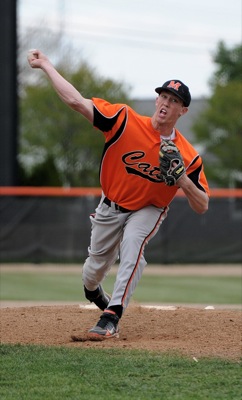 Although the area had no shortage of talented baseball players, Adam Niemeyer left little doubt as to who should be named The Daily Standard's Baseball Player of the Year with the statistical season that he compiled.
The Minster senior and future Ohio State Buckeye won the honor for the second straight year after leading the Wildcats to a share of their first Midwest Athletic Conference title since 2010 while compiling some eye-popping statistics on the mound and at the plate.
The Coach of the Year honor goes to veteran St. Henry coach John Dorner, who led the Redskins to a 24-6 campaign while claiming the top spot in the final Division IV coaches' state poll.
NIEMEYER
After posting a 5-0 record on the mound a year ago and not allowing an earned run, Niemeyer was only able to pitch 2/3 of an inning in the 2012 postseason after suffering a sprain to his Ulnar Collateral Ligament. Niemeyer admitted that if he had continued to pitch, he would have likely torn the UCL, which would have required Tommy John surgery to repair.
Niemeyer recovered nicely from the injury and won all six of his starts this season while posting a 0.71 ERA. In just 39 1/3 innings, Niemeyer struck out 80, walked six and posted a WHIP of 0.53.
"It was great to get back to where I used to be," said Niemeyer, who was a part of back-to-back state championship teams in 2011 and 2012. "Last year was kind of tough sitting and watching the tournament (when not batting). It all paid off (with the title). Over the winter I worked on my rehab and it all paid off in the end. It was a great feeling to come back this year."
Niemeyer's best game on the mound came in the sectional final against Marion Local as he struck out 18 Flyers while throwing a no-hitter.
"It's easy to pitch when you know you have a good defense behind you," added Niemeyer, who was also selected as the MAC and Division IV state Player of the Year. "You can just pound the strike zone and know they're going to make the plays behind you."
As lethal as he was on the mound, Niemeyer also led the Grand Lake area with a .521 batting average while contributing eight doubles, 31 runs scored and 28 RBI.
Although a third straight state championship was denied (losing to Crestview in the district semifinals), Niemeyer appreciates all the experiences during his years in the Orange and Black uniform.
"Probably three of the best years of my life, for sure," said Niemeyer, who was 17-0 on the mound with a 0.63 ERA and 217 strikeouts in his career. "The camaraderie we had on those teams was great. Tough to beat. I love all my teammates and my coaches. Great to be around. Coming to the park everyday was a blast.
DORNER
The Redskins were challenged right at the beginning of the season. After losing the opening game to Covington, St. Henry won three straight, including two against 2012 state runner-up teams (Wapakoneta and Lima Central Catholic).
St. Henry did not lose back-to-back games all season, rattling off winning streaks of eight, six and five games.
"The team I had this year was pretty much a complete team," said Dorner, who wrapped up his 24th season as St. Henry's coach. "Offensively, defensively and on the mound. When we put those things together, we were pretty good.
Dorner was named the Division IV state Coach of the Year by the Ohio High School Baseball Coaches Association.
The pitching staff, which featured just one senior was solid. In 23 of the 30 games played, St. Henry allowed three runs or less. Three of their six losses were by one run, including a pair of 2-1 defeats.
"Our defense and pitching was there almost every day," said Dorner.
Dorner credits his coaching staff - veteran JV coach Dave Borger and former Redskins players Neil Schmitz, Bill Gast, Josh Link, Jordan Jacobs and Kyle Kunk - for the success of this past season.
"A tremendous coaching staff to work with," said Dorner. "Some of these guys have been with me for 20 years. Half of my staff is volunteer, many have played in state championship games or in college. When you have people like that helping you, you tend to be successful."
As much as he and the team were disappointed with the way the season ended (loss to Crestview in the district final), the fact that he will have the bulk of his pitching staff back next year has Dorner eagerly anticipating 2014.
"We're proud about this year," said Dorner. "We're a little down on how it ended, but we do know we have a young staff coming back. Six of our seven pitchers are returning. It's tough to see a guy like Alex Post go, he was a four-year starter. Derek Rindler had a monster year for us (first team All-Ohio outfielder) and Devin (Froning) was a stabilizing force at third base in the infield. Those are three big losses, but the cupboard is definitely not bare."

Dream Team First Team:

C - Kyle Mescher, Marion Local
(.395 avg, 10 doubles, 24 RBI)

1B - Jacob Muhlenkamp, Fort Recovery
(.459 avg, 5 doubles, 18 RBI)

2B - Andrew Knapke, Minster
(.360 avg, 31 runs, 25 RBI)

SS - Devon Poeppelman, Minster
(.474 avg, 12 doubles, 24, runs, 23 RBI)

3B - Matt Selhorst, Coldwater
(.494 avg, 9 doubles, 20 runs, 31 RBI)

OF - Derek Rindler, St. Henry
(.448 avg, 9 doubles, 29 runs, 22 RBI)

OF - Mitch Heyne, Coldwater
(.420 avg, 6 doubles, 25 runs, 17 RBI)

OF - Jay Eilerman, Minster
(.359 avg, 21 steals, 36 runs, 17 RBI)

DH - Malave Bettinger, Coldwater
(.468 avg, 10 doubles, 23 runs, 31 RBI)

P - Adam Niemeyer, Minster
(6-0, 0.72 ERA, 80 K's, 39 1/3 inn)
(.521 avg, 8 doubles, 31 runs, 28 RBI)

P - Jeff Paul, St. Henry
(.398 avg, 16 steals, 25 runs, 28 RBI)
(7-0, 1.58 ERA, 32 K's, 48 2/3 inn)

P - Christian Schramm, Coldwater
(.393 avg, 6 doubles, 11 runs, 14 RBI)
(4-3, 1.55 ERA, 39 K's, 40 2/3 inn)

Dream Team Second Team:

C - Ethan Wolf, Minster
(.388 avg, 8 doubles, 17 runs, 30 RBI)

1B - Aric Fickert, Celina
(.349 avg, 11 doubles, 22 runs, 25 RBI)

2B - Jack Roth, Parkway
(.368 avg, 5 doubles, 13 runs, 18 RBI)

SS - Adam Klosterman, Coldwater
(.329 avg, 19, runs, 15 RBI)

3B - Brandon Moorman, Parkway
(.413 avg, 8 doubles, 17 runs, 21 RBI)

OF - Brody Hoying, Coldwater
(.375 avg, 20 steals, 30 runs, 15 RBI)

OF - Aaron Nietfeld, Marion Local
(.413 avg, 4 doubles, 10 runs, 14 RBI)

OF - Cody Vogel, Celina
(.314 avg, 4 HR, 16 runs, 18 RBI)

DH - David Zirkle, New Bremen
(.400 avg, 6 doubles, 10 runs, 7 RBI)

P - Grant Muhlenkamp, Coldwater
(5-1, 2.12 ERA, 33 K's, 36 1/3 inn)

P - Jackson Hobbs, Fort Recovery
(4-4, 1.37 ERA, 51 K's, 56 1/3 inn)

P - Clay Bertke, New Bremen
(4-5, 2.73 ERA, 51 K's, 41 inn)