Thursday, June 13th, 2013
Storm damage in Auglaize
Mercer County avoids impact officials say
By Shelley Grieshop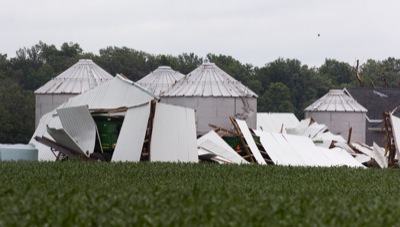 NEW KNOXVILLE - A massive storm system passing through the area early this morning destroyed several area barns and wreaked havoc on the Auglaize County Neil Armstrong Airport.
Damage in Mercer County was minimal. No injuries were reported in either county from the storm that began in Iowa and continued today toward the Mid-Atlantic region, spawning tornadoes and power outages.
Wind gusting more than 60 mph struck the New Knoxville and Uniopolis areas about midnight, collapsing buildings and downing trees and power poles, according to county EMA Director Troy Anderson. Officials were assessing the damage at press time today.
"It's going to be a big number," he said of the estimated cost of the wreckage. "We had six barns completely destroyed in the New Knoxville area and damage to numerous houses."
Debris from the destroyed barns and out-buildings was scattered across the countryside along a mile stretch of state Route 219, he said.
The Neil Armstrong airport was closed at press time today as officials and volunteers cleaned up debris, manager Sean Stroh said. The walls of one hangar buckled, causing "substantial damage" to the building, he said. A window was blown out of the terminal building and a natural gas meter was destroyed, causing a leak, he added.
A damage estimate for the airport was not available. Destruction also was visible in Wapakoneta at a gas station, the Bob Evans restaurant and several homes, Anderson said.
A funnel was spotted during the night in northwest Auglaize County, near the southwest corner of Van Wert County. It was tracked by Anderson and other storm responders using night vision goggles. The twister never touched down, he added.
"We watched it until it dissipated," he said.
Mercer County 911 Administrator Monte Diegel said only two damage incidents were reported from the overnight storm. A barn and other out-buildings were destroyed near Mercer-Van Wert County Line Road, and garage doors were blown off a business in the area, he said.
The Mercer County Sheriff's Office on Wednesday afternoon assigned extra road patrol and a second dispatcher to work overnight to ensure adequate manpower if the storm lived up to its hype.
"For everything we prepared for ... it was relatively quiet," he said.
Mercer County EMA Director Mike Robbins this morning said he received very few reports of storm damage. Wind speeds in Celina were below 58 mph, which falls in the severe thunderstorm warning category, he said.
Midwest Electric reported 1,100 customers without power in Auglaize and Mercer counties during the peak of the storm. By 8 a.m. today, electricity was restored nearly everywhere except several dozen homes along Mercer-Van Wert County Line Road, where nine electric poles were downed.
More than 100 Dayton Power & Light customers in the Grand Lake area were left in the dark shortly after midnight but nearly all were back online by dawn.
Local rainfall was spotty with the highest amount - 2 inches - recorded in the Fort Recovery area, Robbins said. Flooding was not an issue anywhere this morning, he said.
As the storm approached Wednesday night, nearly 100 4-H youth, with flashlights, pillows and blankets in hand, were herded into a basement at Harbor Point camp in Celina.
"They said it was going to be bad, but it wasn't as bad as they thought," said Barb Phares, longtime OSU Extension 4-H educator and camp coordinator since 1986.
The children, ages 9 to 13, were mostly oblivious to the weather as they watched the movie "Sky High," a Disney flick about super heroes, she said.
The group remained in the basement - accompanied by a sheriff's office deputy - until the storm passed. The children eventually were allowed back into their cabins and dorms; Phares crawled into her own bed about 2 a.m., she said.
"It certainly wasn't the worst storm I've gone through during my years at camp," she said.