Thursday, June 13th, 2013
Mariners lose fourth straight
Grand Lake offense shut out for 11 innings
By Ryan Hines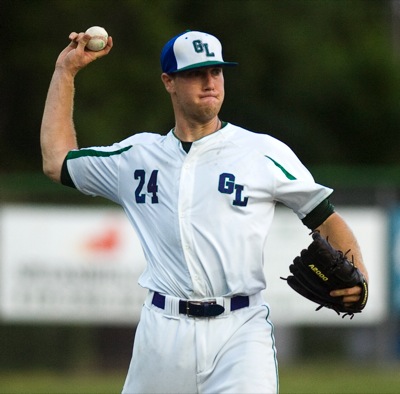 CELINA - An inability to get a hit with runners on base is haunting the Grand Lake Mariners.
Grand Lake stranded 12 runners on base during Wednesday's 1-0 11-inning loss against the Lake Erie Monarchs in Great Lakes Summer Collegiate League action at Montgomery Field.
The Mariners (1-4) have lost four straight games since opening the season with a 5-1 win over Dayton. In the four losses, Grand Lake has left 12, 11, 11 and 12 runners on base.
"We've had our opportunities to score but just haven't come through with a big hit in those situations," said Grand Lake manager Cody Castle. "I think that we are trying to do a little too much when we get guys on base. We're trying to hit the ball out of the ballpark instead of just taking our batting practice approach. We have to shorten up, put the ball in play and just make something happen."
Grand Lake managed just three hits against Lake Erie's pitching trio of Jon Pusateri, Michael Hearne and Jack Anderson. The Mariners did have 11 other baserunners (nine by walks and two batters were hit by a pitch) but Grand Lake was 0-for-16 with runners on base and didn't have a hit after the eighth inning.
"We are doing things to get guys on base but it's just disappointing that we aren't able to get them in when we get them on base," said Castle. "It's only a matter of time before we get that big hit and I think it will just take one of those to turn it around."
Grand Lake's three pitchers - Isaac Beller, Luke Mamer and Tyler Jordan - combined to throw 10 scoreless innings before Lake Erie manufactured the game-winning run off Jordan in the top of the 11th inning. Pat Lancaster laced a single up the middle but was retired on Heath Slatton's groundball to third base. Jordan's pick-off attempt with Slatton on first base was off target and the ball skipped to the fence, allowing Slatton to advance to third base. Brett Murray then lofted a fly ball to leftfield that was deep enough to allow Slatton to score.
"It's unfortunate that the pick-off throw to first base got away and put the winning run on third base," said Castle. "In tight games, like tonight, sometimes it's just one mistake that can make the difference and that's what happened tonight."
Grand Lake had the tying and go-ahead runs on base in the bottom of the 11th inning but came up empty. Jason Scholl drew a lead-off walk and moved to second base on Brandon Mallder's sacrifice bunt before Dane Sauer was hit with a pitch for the second time in the game. P.J. Nowak, Grand Lake's nine-hole hitter, then struck out on three straight pitches before Matt Paculan grounded out weakly to the pitcher for the final out of the game.
Anderson earned the win for Lake Erie with three shutout innings while striking out four. Grand Lake hitters struck out 10 times in the game.
Beller pitched six shutout innings to start the game for Grand Lake and allowed just five hits with two walks and three strikeouts. Mamer then retired all six batters he faced before Jordan closed the game out.
"I thought that our pitching was really good and it gave us a chance to win. Isaac, Luke and Tyler all did a nice job," said Castle. "When they go out and throw 10 shutout innings, that's a game we have to win."
Grand Lake is back in action again tonight with a road trip to face the Lima Locos at Simmons Field with first pitch slated for 7:05 p.m.

Former MLB star will be on hand next Wednesday:
Former Pittsburgh Pirates star Al "Scoop" Oliver will make a special appearance to throw out the ceremonial first pitch at Wednesday's Grand Lake Mariners game, and he will then be available to sign autographs at Montgomery Field on Celina Insurance Group night at the ballpark.
Oliver is a seven-time Major League Baseball All-Star and member of the 1971 Pirates' World Series championship team. In an 18-year career, Oliver batted over .300 for 11 years and ranks 45th on the all-time hits list. He also ranks in the top 50 all-time for games played (2,368), total bases (4,083), RBI (1,326) and extra-base hits (825).
Celina Insurance Group will also be holding a speed-pitch contest for children and will present door prizes for those who attend the game against the Cincinnati Steam. All youth baseball and softball players who wear uniforms will be admitted into the game for free and have special opportunities to interact with Mariners players.