Tuesday, June 25th, 2013
Expo center's cost jumps
Planned uses for $4M complex keep growing
By Shelley Grieshop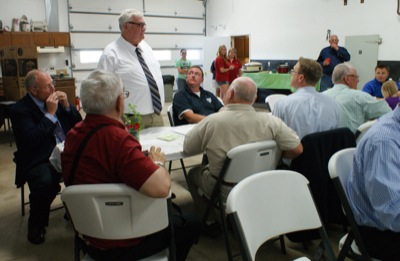 CELINA - The estimated cost of a new expo center at the county fairgrounds has jumped several million dollars as plans for its usage continue to grow.
The proposed multi-purpose Progressive Agriculture Convention and Education Center price tag is now at $4 million - up $3.5 million from the project the Mercer County Fair Board first announced in November. Plans and costs soared after two universities and a local technical school expressed interest in using the facility for classroom instruction.
The nonprofit fair board plans to pay for the endeavor with donations; the funding process is in the preliminary stages. Construction likely won't be complete until May 2014.
The T-shaped PACE Center - to be built on the west end of the fairgrounds - will be used for large livestock exhibitions, 4-H activities, agriculture and food science education, trade shows and special events such as concerts, fair manager Cara Muhlenkamp told dozens of local and state officials who gathered Monday in Celina.
"We have to broaden every horizon possible," she said.
The barns on the fairgrounds now used for livestock exhibition are no longer adequate, she said.
Other proposed uses "not yet set in stone" include horse programs for physical therapy and juvenile court rehabilitation, she told the group during a presentation at a farm owned by businessman and longtime fair supporter Jim VanTilburg.
The largest area of the building would house an exhibition center spanning 180 feet by 445 feet. Plans include a show ring and stalls to accommodate 110 horses/cattle.
An adjacent 70-foot-by-150-foot educational wing would accommodate up to 40 students in four technology-equipped classrooms and include laboratories and hands-on teaching space to expand the college-level agriculture education program offered at Wright State University-Lake Campus.
"We just don't have the facility we need to continue to grow," said Dr. Greg Homan, who began teaching the agriculture program at the branch campus in 2009.
Eight alumni from Homan's class attended Monday's presentation and spoke about their education and the jobs they obtained in their specific skill. Brad Steinke of Wapakoneta, a 2012 graduate, said he works as a salesman for United Equity in Kossuth. More hands-on learning opportunities are needed for students in the ag field, he explained.
"It would be really nice to have a facility that offers more hands-on experiences than what we were able to get," he said.
Homan agreed.
"Ag is not something you learn from memorizing numbers or reading a textbook," he added.
Dr. Sereana Dresbach, deputy director of the Ohio Department of Agriculture, said she supports the creation of the expo center for education to fill jobs. The ag industry, like many others, is in need of more skilled and well-trained workers, she said.
"In all the programs I oversee ... we need skilled, educated people. We need to make sure we have people to step up to the plate," she said.
Fair officials also hope to partner with Tri Star Career Compact and Ohio State University's Agricultural Technical Institute. OSU's ATI team, led by Dean Dr. James Kinder, were at Monday's presentation and toured the region.
Muhlenkamp spoke about the critical role agriculture plays in Ohio by employing more than 60,000 workers at 1,106 plants. The state's food and agriculture sector contribute more than $100 billion to Ohio's economy each year, she said.
She told the group the expo center's location is a perfect fit in an area deeply planted in agriculture.
"I think we'd all agree ... we wouldn't have what we have in this area if it wasn't for agriculture," Muhlenkamp said.
County economic development director Jared Ebbing could not attend the presentation but issued a statement.
"Agriculture is more than a way of life for this area, it is an economic engine that has many positive, far-reaching effects. ... The PACE Center would serve as a positive means for the continued growth and development of agri-business within this area for years to come," he stated.