Tuesday, June 25th, 2013
Coffey pitches complete-game shutout for 'Riders
By Gary R. Rasberry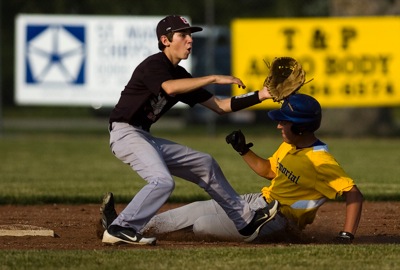 ST. MARYS - Brandon Coffey kept Spencerville's bats silent and St. Marys used a six-run fourth inning to pull away for an 8-0 win in ACME baseball action on Monday as the Roughriders improve to 7-6 on the season.
St. Marys, which scored 27 runs during Saturday's doubleheader sweep over St. Henry, connected for nine hits against the Bearcats. The Roughriders' offense was aided by Spencerville's trio of pitchers that issued nine walks, hit two batters and threw five wild pitches while the Bearcats' defense committed two errors.
"I'll take that," said Roughriders coach Rob Coffey. "Boys are coming together. We got a doubleheader tomorrow night (with Delphos Jefferson) and tournament time on Sunday. We're starting to groove. We're having a lot of fun. That's the main thing."
The Roughriders took a 2-0 lead in the third frame. Tristan Becker walked and Zach Wilker was hit by a pitch. After Becker and Wilker each stole a base, a wild pitch by Spencerville's starting pitcher Wyatt Krouskop allowed Becker to score. Brandon Coffey then drove in Wilker with an RBI double.
St. Marys broke the game open in the fourth inning as Spencerville's relief pitcher James Schaad was unable to get a batter out with the first six Roughriders reaching base safely. Nathan Vogel singled and then moved to third base after a stolen base and a Spencerville error before scoring on Michael Harbaum's single. Becker was then hit by a pitch before Isaac Fitzgerald doubled in a pair of runs for a 5-0 St. Marys lead. Two more wild pitches plated two more runs Mason Gross drove in the final run with a groundout.
Coffey kept Spencerville's offense silent by retiring the first 11 batters in order before Jacob Meyer singled with two outs in the fourth. Coffey retired the next eight batters before Meyer reached on an error with one out in the seventh. Meyer was thrown out trying to steal second for the second out and Krouskop flew out to center to end the game.
Coffey faced just one batter over the minimum, did not issue a walk and struck out six. Ten of the 21 outs were groundouts, with just three balls leaving the infield.
"Get a ground ball, a pop out. Whatever it takes to get three outs, right?" said coach Coffey of his son's pitching. "... Thing about Brandon is he always works up in the count. He always starts off with a strike (19 of the 22 batters had first-pitch strikes). Not always, but he tries. That's the big thing, got to get them in a hole. That way, they'll start swinging at anything else."
Wilker was the only St. Marys batter to get two hits in the game while Wilker and Becker each scored twice.
The doubleheader for St. Marys tonight at K.C. Geiger Park will start at 5:30 p.m.