Wednesday, July 3rd, 2013
Suspect pleads not guilty
Trevin Sanders Roark charged in Fort Recovery area murders
By Margie Wuebker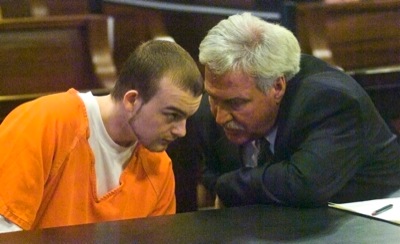 Trevin Sanders Roark, a 19-year-old Union City man charged with murder in the November 2011 shootings of Robert and Colleen Grube, pleaded not guilty to 27 charges Tuesday afternoon in Mercer County Common Pleas Court.
Sanders Roark also waived his right to speedy trial with Judge Jeffrey Ingraham explaining constitutional requirements stipulate a trial must proceed within 270 days of charges being filed. However, each day the defendant spends in jail counts as three, so Sanders Roark's trial would have had to commence by Sept. 12.
Ingraham scheduled an Aug. 2 attorney conference giving appointed co-counsels Jose and Jay Lopez of Miami County time to review "voluminous" amounts of material compiled during the 16-month investigation. Following the conference, the judge will set the first pretrial hearing.
The charges include multiple counts of aggravated murder, murder, involuntary manslaughter, aggravated burglary, kidnapping by virtue of restraining the victims, aggravated robbery, burglary and theft, all with firearm specifications. They range from first-degree felonies to a first-degree misdemeanor.
Heightened courtroom security was used Tuesday. All spectators passed through a metal detector and had their purses or backpacks checked. Jail administrator Mark Heinl used a long-handled mirror to check beneath seats and the defense table before the defendant was brought in. The search turned up nothing.
Representatives of the Grube family sat on one side of the courtroom while the defendant's mother, Tracey Riley, and two female companions sat on the other.
Sanders Roark did not look at either side while being led into and out of the courtroom. He stared ahead and grimaced from time to time.
He remains incarcerated on a $5 million cash bond.
Sanders Roark, who was 17 at the time of the murders, first appeared in Mercer County Juvenile Court with Judge Mary Pat Zitter ruling June 7 that he be tried as an adult.
He is not eligible for the death penalty due to his age at the time of the crimes.
Sanders Roark allegedly used the gun he and co-defendant Bryant Rhoades found under Robert Grube's bed to shoot 47-year-old Colleen Grube. He reportedly told authorities that 22-year-old Rhoades, who is also from the Union City area, then shot 70-year-old Robert Grube.
The men, along with an unidentified man and woman, allegedly went to the Grube home Nov. 29-30 to take prescription medication they knew Robert Grube possessed, as well as cash, electronics and anything else that could be used to obtain money. They allegedly restrained the wheelchair-bound father and his daughter with duct tape before ransacking the home.
Grand jurors also returned 27 charges against Rhoades on June 13. He previously was charged with obstructing justice in the case.
Rhoades remains incarcerated on a $5 million cash bond pending a July 23 pretrial hearing. He waived his right to speedy trial June 18 during a combined initial appearance and arraignment before Ingraham.