Wednesday, July 3rd, 2013
Celina and Parkway open with wins
Mercer County ACME Sectional Tournament
By Gary R. Rasberry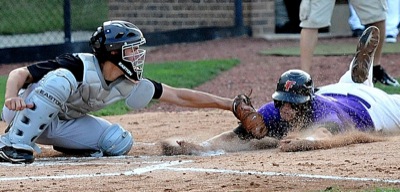 COLDWATER - After two days of rainouts, action finally got underway at the Mercer County ACME sectional tournament on Tuesday at Veterans Field in Coldwater.
Celina, which had already lost twice to Fort Recovery during the regular season, scored three runs in the top of the first and then blew the game open with seven more in the sixth en route to a 12-3 win. The Bulldogs will now take on second-seeded Coldwater tonight at 6 p.m.
In Tuesday's nightcap, Parkway grabbed an early 3-0 advantage and pitchers Austin Adams and Wyatt Felver worked out of several jams to lead the Panthers past Marion Local 5-2. The Panthers now face top-seeded St. Henry tonight with the first pitch slated for approximately 8 p.m.
The Indians and Flyers will get a day off before competing in the loser's bracket on Thursday. Marion Local plays the loser of Celina-Coldwater at 11 a.m. while Fort Recovery will play at 1 p.m. against the loser of Parkway-St. Henry. The third game of the holiday tripleheader will be at 3 p.m. featuring the winner's bracket final between tonight's winners.

Celina 12, Fort Recovery 3
The Bulldogs wasted no time in taking an early lead. After Jimmy Luebke walked and Cody Vogel reached on a fielder's choice when the throw to force Luebke at second base was off the mark, Jacob Homan doubled for a 2-0 Celina lead. Homan later scored on Kevin McGohan's sacrifice fly to left.
"We've played a lot of games this year where we haven't got the bounce," said Celina coach Todd Steinbrunner. "Early on we got some things to go our way. They made a few errors. I think it's the first time all season things went our way early."
"At the end of the game, when the error column has as many as the hit column, you're in trouble," said Fort Recovery coach Jeff Wendel, a nod to the Indians having four errors and five hits. "Celina did a nice job making us pay for our mistakes. They outplayed us today. Credit to them."
Two more runs for Celina in the second chased Indians starting pitcher Cole Wendel and Kent Retz then threw three shutout innings, which allowed the Indians to trim Celina's lead to 5-2.
Celina's offense got back on track in the sixth inning as the Bulldogs sent 12 batters to the plate and scored seven runs. Seth Lonsway had a two-run single and McGohan added a two-run double to highlight the scoring outburst.
A 12-2 lead was more than enough run support for Luebke, who scattered five hits and four walks with five strikeouts over seven innings to get the win.
"Every time you put Jimmy out on the mound, you know what you're going to get out of him," said Steinbrunner. "He's going to throw strikes and he's going to mix his pitches well. Jake Homan had a huge double play (in the fourth). Defensively we played great. (In the first, Jacob Muhlenkamp) hit one in the gap and Cody (Vogel) made a great throw in rightfield, a great relay and we throw (Blake Boughman) out at the plate. We played a good baseball game.
Homan went 2-for-4 with three RBI for Celina, McGohan had two hits and three RBI and Lonsway and Skylar McCarter had two hits and two RBI.
Parkway 5, Marion Local 2
The Panthers picked up two runs in the bottom of the second off Marion Local pitcher Cole Griesdorn as Hayden Abromavich scored on a wild pitch before Brody Adams' RBI single plated Brandon Gibson. Parkway then added a run in the fifth when Tanner Bates scored on a wild pitch before Austin Adams' RBI single plated Felver in the sixth.
"I thought we did okay tonight," said Parkway coach Kerry Adams. "I thought we were still overly selective with our pitches while hitting. All in all, I thought we came away pretty good tonight."
Austin Adams was solid on the mound for Parkway, allowing an unearned run on two hits through the first four innings while working out of several jams. The Flyers left eight runners on base through the first five innings.
In the sixth, Adams struck out the first two batters - his sixth and seventh of the game - before giving up two straight hits and a walk to load the bases for Troy Homan, who also worked a walk to bring in a run. With Aaron Nietfeld up to bat with the bases still loaded, coach Adams called Felver from behind the plate to the mound. Felver got Nietfeld to pop out to Abromavich in foul territory to end the Flyers' rally.
In the seventh, Felver got Ethan Nietfeld to swing at strike three, but the pitch was wild and unplayable as Nietfeld advanced all the way to third. Without missing a beat, Felver promptly struck out the next three batters in succession to close out the game.
"Wyatt did a nice job finishing up for us," said Coach Adams. "Austin did a good job through 5 2/3 innings. He was getting high in his pitch count, so we wanted to get him out and get Wyatt some pitching to get ready for St. Henry."
Brody Adams was 2-for-3 with an RBI to pace Parkway's offense. Aaron Nietfeld had two of the four Flyer hits.