Monday, July 8th, 2013
Mariners have won seven of their last 10
By Gary R. Rasberry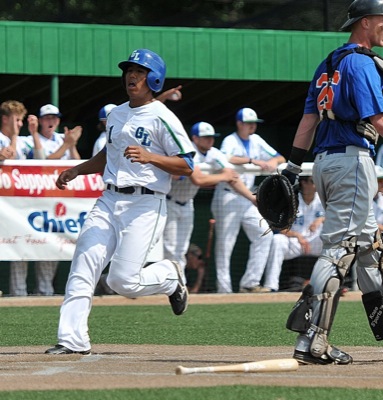 CELINA - The Grand Lake Mariners are currently the hottest team in the Great Lakes Summer Collegiate League.
The Mariners dug out of a 5-2 deficit by scoring two runs in the sixth and three more in the seven to rally for a 7-5 win over rival Lima on Sunday at Montgomery Field.
Grand Lake has now won three straight and seven of its last 10 to improve to 11-13 overall, a far cry from when a six-game losing streak had the Mariners in last place with a record of 4-11 on June 23rd.
The Mariners initially looked to be in control with a 2-0 lead, both runs scored by Matt Paculan, as Russ Hogue was solid through the first three innings. However, the Locos rallied for three runs in the fourth. Jeremy Hyde's double to the fence in leftfield scored a pair and the go-ahead run came home on an error as Lima grabbed a 3-2 advantage.
Hogue left after 5 1/3 innings, but Mariners reliever Clint Beland gave up an RBI sacrifice bunt that resulted in an error and he then issued back-to-back walks as Lima charged in front 5-2.
The Mariners immediately cut into the Locos' lead with a pair of runs in the bottom of the sixth inning. Daniel Seeba scored on a wild pitch and John Brodner's fly to centerfield scored Tyler Gray to pull Grand Lake to within one run at 5-4.
In the seventh, Grand Lake's Dane Sauer scorched a double off Tyler Murphy, the third Locos' pitcher of the game, and Ashton Fulmer followed with a bunt single to give the Mariners a pair of baserunners. Will Solomon, the ERA leader in the GLSCL, then came on to pitch and gave up an infield RIB single to Paculan that scored Sauer to tie the game. After Ricky Alfonso sacrifice bunted the runners up a base, Seeba doubled deep to right-centerfield to plate a pair of runs that gave the Mariners a 7-5 lead.
"Our offensive philosophy is 'Put the ball in play and make something happen,' " said Mariners skipper Cody Castle. "You at least give yourself a chance. (Seeba) put a good swing on it and was able to put it up the middle."
J.J. Buckey, who threw a perfect seventh, did likewise in the eighth. When pinch-hitter Matthew Furuto led off the ninth with a double, Castle wasted no time calling Gerardo Dudamel to the mound to close out the game.
"We always tell our pitchers 'Minimize, minimize, minimize,' " said Castle. "(Jacob) Moreland came in and got two big strikeouts with bases loaded (in the sixth inning) and got us out of a big jam and J.J. shut the door."
Dudamel, who was rested for 10 days before tossing a perfect inning on Friday at Lake Erie, struck out Casey Schroeder and got Mackenzie Hampshire to pop out before striking out Jess Posey to end the game.
"He actually had a little bit of shoulder tightness a couple of weeks ago and we shut him down for about 10 days," said Castle of Dudamel. "This was his second outing back and he's got a little more zip on the ball. He's getting healthy again for us, which is good leading into the All-Star break."
Paculan went 2-for-3 with three runs scored, and is again on top of the GLSCL in batting with a .373 average.
Saturday's game at Lima was rained out and no makeup date has been announced.
Grand Lake heads to Denison University tonight to face Licking County in the final game before the All-Star break. The Mariners will then host the Locos again on Friday.