Tuesday, July 30th, 2013
Police suspect arsonist torched Celina vehicles
Law enforcement seeks tips from public
By Margie Wuebker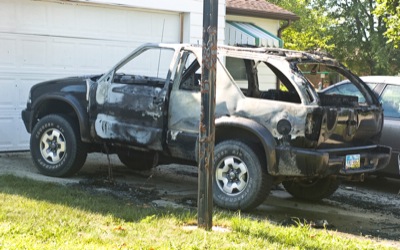 Celina firefighters and police officers responded to a rash of suspicious vehicle fires early this morning at residences in the northeast part of the city.
Arson is suspected.
The first 911 call came in at 5:30 a.m. today from the 1600 block of Queensbury Drive with a second fire report 13 minutes later from the 1000 block of Kensington Court. Someone also reported a smouldering fire in vehicle along Meadowview Drive shortly before 10 a.m.
All of the incidents are in an area behind Lehman-Hogenkamp-Dzendzel Funeral Home and Celina Manor Nursing Home off Myers Road.
In one case, flames spread from one vehicle to another parked in a driveway and then to a garage.
At least three vehicles were burned. Further details were not available at press time.
Celina Fire Chief Doug Wolters called in the State Fire Marshal's Office to investigate the incidents.
Through the state's Blue Ribbon Arson Committee, Wolters said there is the potential for up to a $5,000 reward for information leading to the arrest and conviction of the person or persons responsible.
Celina Police also are investigating a rash of vandalized vehicles in the same general area - some of which occurred this morning and others during the weekend.
Anyone who spotted suspicious activity in the area is asked to call the police department at 419-586-2345, the fire department at 419-586-2127, or the fire marshal's office at 800-589-2728.

Correction:
The phone numbers have been corrected from the print edition.