Saturday, August 10th, 2013
Wright named first 'Hometown Hero'
By Eric Adams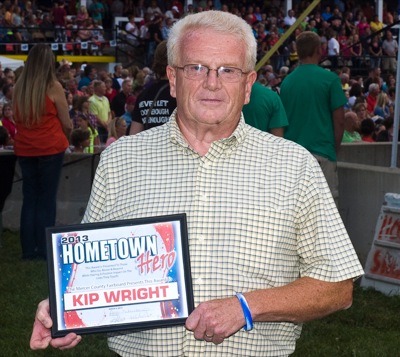 CELINA - Semi-retired Celina resident Kip Wright was honored as the first "Hometown Hero" on Friday.
"I'm proud; surprised, but extremely proud," said Wright Friday night after learning about the award. "My wife and I have always said Mercer County's been good to our family; we're fortunate at this point in our lives that we can pay (that) back."
It is the inaugural year for the "Hometown Hero" contest at the Mercer County Fair. The essay nomination-based event challenged residents to acknowledge a person in their life who has "(gone) above and beyond to have a positive impact on the people/organizations they come into contact with."
Wright is a part-time patrol officer with the Coldwater Police Department but he earned the accolade for his role at Wright State University - Lake Campus.
On paper, Wright's duty at the local college is to address matters of student conduct. According to nominator Candace Philpot, coordinator of student events at the Lake Campus, he far exceeds the responsibilities of that role.
Philpot has worked with the veteran officer two and a half years and has observed an impressive number of "hero" characteristics, including active participation in various committees.
She said Wright assists with resident move-in weekends, serves on boards that handle student commencement and graduation and plays an integral role in various capital campaigns/fundraisers for the campus.
He also is active in the alumni association, making near-constant efforts to involve community members, Philpot said.
Additionally, he collaborated with accounting professor Ron Kremer and several other faculty in 2011 on the university's community garden project. Since its creation, the garden has cumulatively produced more than 1,500 pounds of food, which is donated to CALL Food Pantry and Agape Ministries in St. Marys.
Intangible achievements include Wright's workplace demeanor, which Philpot said rarely fails to brighten the office.
"His nickname is 'Mr. Glass half full,'" she said. "He always finds the silver lining ... when we are feeling down, he makes sure we understand that (hardships) are a great learning experience."
Wright, a graduate of Celina High School and the Lake Campus, is dedicated to his family as well.
"He is always happy to have (his wife) Mary by his side, and his face always lights up when he talks about his children and grandchildren," said Philpot.
A lifetime in law enforcement has not turned Wright cynical, Philpot said. She said it is his personal belief that one-time criminals can be reformed if they are dedicated to self-improvement.
Wright said Friday there is no great secret to his popularity or success, he simply likes to help people and make them smile.
Fair manager Cara Muhlenkamp said she got the idea for the contest from online research on a county fair in California.
"I started looking at different things from other fairs around ... the West Coast," she said. "(And) one of the fairgrounds had a contest like we did this year."
Muhlenkamp said members were satisfied with the first-year response.
"It will be a building process," she said. "(But) for the first year I thought it was great."
To avoid any potential selection bias, nominations were read by a panel of adults not from the county, Muhlenkamp said.
"Their feel was that (Wright) served his community, and that was more of a hometown hero (than the other submissions)."
All nomination essays will be displayed all week in the commercial building at the fairgrounds.

Mercer County Fair highlights:
Today
• 8 a.m. - Gates open
• 9 a.m. - Country horseshoe pitch class C and D
• 10 and 11 a.m., 1 and 2 p.m. - Baby contest, entertainment tent
• 1 p.m. Rides and games open
• 2 p.m. - Annual pie contest, junior fair tent
• 4 p.m. - Demo derby; straw-stacking race, grandstand
• 5 p.m. - Princess, wee miss, little miss, junior miss, prince, wee mister contests, entertainment tent
• 7 p.m. - Tug-A-Trucks; pee wee showmanship (following Junior Fair Breeding Show), grandstand
• 7:30 p.m. - Talent show, Cooper Farms entertainment tent
• 9 p.m. - 2 Steel Girls, beer garden

Sunday
• 8 a.m. - Gates open
• 10:30 a.m. - ecumenical worship service, entertainment tent
• 12:30 p.m. - chicken flying contest
• 1:30 p.m. - harness racing, grandstand
• 1:30 p.m. - wiener dog races between harness races
• 3:30 p.m. - Rick Lee James, entertainment tent
• 7 p.m. - farm tractor pulls, grandstand