Tuesday, August 13th, 2013
'Barney' gets laughs at fair as he keeps icon's spirit alive
By Tom Millhouse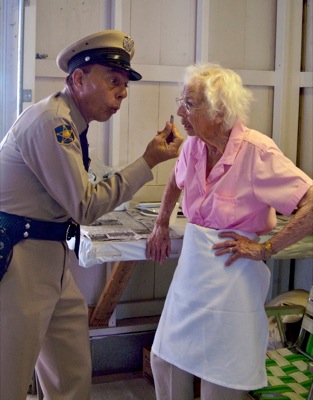 CELINA - With memorable catch phrases like "Nip it in the bud!" Barney Fife was one of the most popular characters on the iconic "Andy Griffith Show," which, thanks to endless reruns, remains an American classic sitcom.
Scott Epperson is doing his part to keep the spirit of deputy Barney Fife alive by impersonating the bumbling television cop. This week, Epperson has brought his act to the Mercer County Fair, strolling the grounds and interacting with fair-goers - some people who watched the show while it was on the air in the 1960s and younger people who recognized Barney from reruns.
Epperson will be walking the fairgrounds 2-8 p.m. today and Wednesday.
While taking a stroll on Monday, several people wanted to see Barney's bullet.
"That's what people want to see the most," Epperson said, as he obliged by pulling his trusty bullet from his shirt pocket. "I've got it right here," Epperson said, "I haven't shot my gun all week and I need some target practice," he tells an avid "Andy Griffith Show" enthusiast.
Most folks who met Epperson wanted to have their picture taken with the Barney Fife lookalike - including 93-year-old Dorothy Buckloh of Celina. Epperson told Buckloh, who was working the Unity Grange food stand, that she reminded him of Aunt Bee. The slender Buckloh quickly replied that "Aunt Bee must have lost a lot of weight."
Epperson, 54, grew up in Mount Airy, N.C., hometown of the late Andy Griffith and the museum named after the actor.
For 33 years Epperson was a police officer in Dunn, N.C. He retired 10 years ago and began impersonating Fife, the character made famous by Don Knotts, who won five Emmy awards for the role.
Epperson was hesitant to take on the persona of the TV character when he was asked to do so by his superiors at the Dunn Police Department for a youth event.
He had been dejected decades earlier when, as a new police officer, his father saw him in his uniform and said, "You look like Barney Fife."
His wife, Melanie, urged him to play the role since it was "only for one day" and would bring smiles to children's faces. A TV commercial about St. Jude's Hospital convinced him.
"If I can make them laugh, it would be worth it," Epperson recalled thinking. "I changed my mind and as they say, the rest is history."
"My mother told me 'you are a messenger of laughter and joy - you make people smile and feel good,' " Epperson said.
"God works in mysterious ways and I feel blessed," he said. "I am living a dream."
If Epperson's mission is to bring some happiness to those he meets, it was mission accomplished Monday afternoon. Fair attendees of all ages flashed smiles when they spotted Epperson or when he hammed it up and told them. "I'm watching you" in the no-nonsense tone of Fife.
Epperson met Knotts before he died in 2006.
"He was my hero," Epperson said, recalling the many nights he spent as a boy watching "The Andy Griffith Show" with his parents and grandparents.
He was introduced to Knotts by the late George Lindsey, who played Goober, a Mayberry filling station attendant.
"He (Knotts) said 'you look more like Barney than I do,' " Epperson said. "I try to keep his spirit alive." He also met other cast members, including Griffith.
"There's only one word to describe Andy Griffith and that's genius," Epperson remarked.
Portraying Fife keeps Epperson busy at fairs, festivals, trade shows, concerts and other events. He also has done some TV commercials. He's on the road about 200 days a year.
He has a theory of why the show remains so popular nearly a half century after it went off the air.
"People love to laugh and it was good, clean fun. And, there was always a moral," he said.
"I think we'd all love to live in Mayberry, wind back the clock, but unfortunately we're not going to," he said. "Those were great times. We have to keep that spirit alive."