Tuesday, August 27th, 2013
Celina paramedic delivers own baby in SUV
By Shelley Grieshop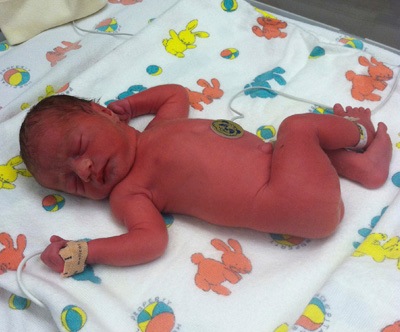 CELINA - Aaron Beougher has delivered a few babies during his career as a firefighter/paramedic but he never thought he'd welcome his own daughter into the world in the family's SUV.
Early Sunday morning near U.S. 127 and Oregon Road he delivered the 2-month premature infant in the front seat of his Ford Explorer. His wife, Sarah, and 3-pound, 9-ounce Zoey are doing fine, he said Monday.
"She's one tough baby," he said of his newborn.
Mother and child were taken from the scene by squad to Van Wert County Hospital, where the first-time parents were headed prior to the birth. The infant was transported to the neonatal unit of Lutheran Hospital in Fort Wayne, Ind., where she likely will stay for several weeks, her father said.
As of Monday afternoon, Sarah Beougher remained at the Van Wert hospital anxious to be reunited with her baby.
"I'm hoping to be with her tomorrow," she said.
Her due date was Oct. 19 and all seemed to be going well, she said. She had experienced weeks of back pain but was assured at a doctor's visit last week that "everything was normal."
"It was my first pregnancy so I wasn't sure what's normal," she said.
Aaron Beougher, 36, was working the night shift at the Celina Fire Department when his wife called about 5 a.m. Sunday to say her water had broke.
"I wasn't sure whether I should call the fire department or 911. I figured I'd get him either way," she said.
Aaron Beougher arrived home and the couple soon set out for the hospital 20 miles away. They were only a few miles into their journey when his wife felt the urge to push, he said.
"I called the squad and then pulled over," he said.
Zoey was born in the passenger seat of the vehicle at 5:29 a.m.; the squad arrived one minute later.
Aaron Beougher admits he was "nervous as can be" but tried to remain calm for his wife.
"I've been doing this for 13 years and I've helped deliver four or five babies but we don't get too many preemies," he said. "I just kept telling myself childbirth is a natural thing. The baby wants to come and that's what's going to happen."
The couple credit the quick and comforting actions of Celina paramedics Chris Cline, Brian Anderson and Joel Lange for helping them through the experience.
"They (paramedics) had the heater turned up in the back of the squad ... they used a thermal mat and blanket to keep Zoey warm," Aaron Beougher said. "The guys were great."
Sarah Beougher said she certainly wasn't prepared for the moment but knowing her husband was a trained paramedic "made it easier." She realizes many things could have gone wrong.
"The doctors and nurses at the hospital said somebody was looking out for us," she recalled.
The baby's grandfather, Steve Beougher - who serves as the Mercer County EMS director - jokingly suggested a more appropriate name for his new grandchild.
"Dad thought we should have named her Dora since she was born in the Explorer," Aaron Beougher said with a laugh.