Thursday, August 29th, 2013
Wenning, Ball State open season tonight
By Gary R. Rasberry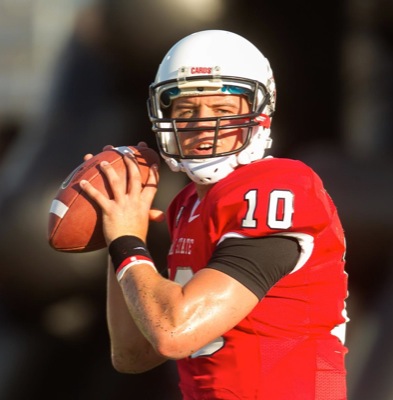 The offseason was busy for Keith Wenning.
Not even a minor surgery before the start of camp has slowed down the Ball State senior quarterback as he gets ready for his fourth year of running the Cardinals' offense.
Wenning led the Cardinals to a 9-4 record and a second straight bowl invitation a year ago and he's itching to get this season underway.
"We're at a point where we're ready to go," said the Coldwater High School graduate in a telephone interview on Monday as the Cardinals get ready for tonight's season opener against Illinois State. "It feels like we've been practicing forever.
Wenning had a prolific junior campaign completing 301-of-460 passes for 3,095 yards with 24 touchdowns and ranked 31st in the nation for average passing yards per game and 41st in total offense. He has blossomed into one of the best quarterbacks in Ball State history as he has the school's most career completions and ranks second in passing yards, touchdown passes and completion percentage.
He did not rest on his laurels this past offseason, however.
"I told everybody this past offseason was the hardest I worked since I've been at Ball State," said Wenning, who was second-team All-Mid-American Conference a year ago. "I threw more than I have before. Watched more film than I have ever watched. Worked with a lot of young guys and (returning players) just to be on the same page. Basically, worked on all the fundamentals. I did a lot with my footwork and drops. Just a little bit of everything so I can better myself as a quarterback."
The only hiccup in Wenning's offseason was arthroscopic surgery on his left knee just before the start of practice. Wenning described the procedure as minor.
"Just a minor scope. Usually you're out for two weeks, but I was back in three days," said Wenning. "Watching from the sideline, it helped me be patient when I'm not out there. It helped me teach and coach some of the other quarterbacks and get them reps. I was talking more with the wide receivers and the running backs. I was definitely antsy, pushing to get back, but it was good to sit back and watch the whole thing."
Wenning's teammates voted him a captain for the second straight season, something Wenning does not take lightly.
"It's great honor. (Being a two-year captain) doesn't happen often," said Wenning. "They expect big things from me with leadership. It comes with the role of being a quarterback, but it's a great honor to try and lead these guys to the best of my ability."
Wenning has also garnered notice from outside the Mid-American Conference, being named to preseason watch lists for two national quarterback awards (Johnny Unitas Golden Arm and Davey O'Brien) and the Maxwell Award, which goes to the top player in college football.
No doubt, the goal of the Cardinals is to win the MAC West and earn a trip to the MAC title game in December, with a bowl game to follow. Wenning thinks all the pieces are in place.
"The defense is the best that I have seen since I've been here," said Wenning. "This offseason, they have done more outside of football (practices) by themselves and without coaches than I have ever seen. That's a credit to them. They've been working their butt off everyday. Offensively, we've done the same thing with the extra stuff. ... It helped us in the summer going into camp. We were ahead of schedule."
The focus now, though is on Illinois State tonight.
"We're smart enough to know it's one game at a time," said Wenning. "Practice is important and every game is most important. One game at a time."
Inside Wenning's Numbers:
Ball State quarterback Keith Wenning's career passing statistics.
| | | | | |
| --- | --- | --- | --- | --- |
| Year | Comp.-Att. | Comp. % | Yards | TD/INT |
| 2012 | 301-460 | 65.4 | 3095 | 24/10 |
| 2011 | 287-449 | 63.9 | 2786 | 19/11 |
| 2010 | 128-235 | 54.5 | 1373 | 14/14 |
| Career | 716-1144 | 62.6 | 7254 | 57/35 |
• Second-team All-Mid-American Conference
• Maxwell Award Watch List
• Johnny Unitas Golden Arm Award Watch List
• Davey O'Brien Award Watch List