Friday, August 30th, 2013
New Bremen rallies past Minster
By Mark Ruschau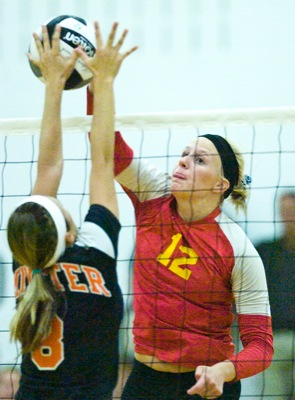 MINSTER - The coaching profession can sometimes be full of ups and downs.
New Bremen volleyball coach Theresa Jenkins saw her girls fall into a two-set hole before the Cardinals rallied to defeat Minster 29-31, 16-25, 25-15, 25-13 and 15-10 in the Midwest Athletic Conference opener for both teams at the Minster Middle School Gymnasium.
"I think the first game really took the wind out of our sails a little bit," said Jenkins. "Not to offer an excuse, because I don't want to give them one, but we did not get the momentum back until the middle of the second game. You just cannot give good teams the lead and expect to come back in games like those.
"I just do not know what swung the momentum," continued Jenkins. "I think the girls just decided to take charge themselves and they did it on their own terms. I did not do anything, they did it on their own and they decided they wanted to win."
One thing that Jenkins did see in her squad in the last three games was a better mental approach which led to better physical play. In the first two matches, the Cardinals gave Minster 30 points on either hitting errors or service mistakes. However, in the last three game they gave away just 16 points because of miscues.
"I think all the girls stepped up their play in the last three games," said Jenkins. "In the first two games we made the same mistake over and over and by the time we hit the fourth and fifth games, we started to make smart aggressive plays and that is what we needed."
Minster's coach Cami Lefeld also noticed the improved play of the Cardinals in the final three games and agreed that was the major difference in the swing of the match.
"I think we came out in the third game with the wrong attitude, especially after we won a tight game in the first one and kind of winning big in the second," said Lefeld. "In the third game we just were not prepared for the way that New Bremen fought back.
"New Bremen is a good team, they made adjustments and they fought back," continued Lefeld. "New Bremen hit the ball very hard in the last three games and we did not adjust. They block well and we had a hard time hitting around those blocks. It came down to that. New Bremen made adjustments and we just did not make the adjustments that we need to make."
It was Minster taking an early advantage in game five, scoring four straight points behind a block and a kill from Erica Oldiges for an 8-4 lead,.
After a timeout, New Bremen took charge with a 7-2 run to take the lead for good at 11-10 after a kill by Kaitlyn Ahrns. A Minster timeout didn't slow down New Bremen as the Cardinals got two kills and a stuff block from Julie Brown to help close out the match.
Both teams are in action on Saturday. Minster (3-2) travels to Sidney to take on Lehman Catholic while New Bremen (2-2) is at home hosting Jackson Center and Troy Christian.