Friday, August 30th, 2013
Jamaica native leads new Lake Campus program
By Nancy Allen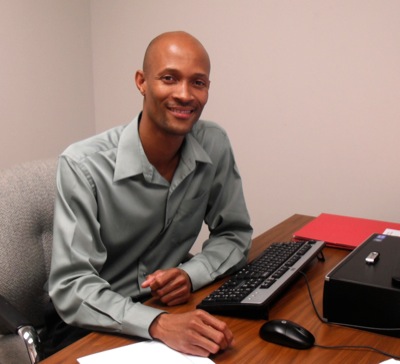 CELINA - Courtney Simons will develop a new food science curriculum and teach most of the classes at Wright State University-Lake Campus.
Classes in the program will be offered in the second semester for students seeking two- and four-year degrees.
Originally from Jamaica, Simons moved to the United States on an international scholarship to attend North Dakota State University in Fargo, where he received a bachelor's degree in food science. He expects to receive his doctorate in cereal science this year from the university.
Prior to earning his degree, Simons spent 12 years in the food industry in Jamaica working as a government food inspector, providing consulting services and teaching at the Agriculture Institute in Jamaica. He also has a diploma in business administration from the Institute of Management and Production in Kingston, Jamaica, and an associate's degree in agriculture from the College of Agriculture in Portland, Jamaica. He has numerous certifications related to agriculture and food sciences.
Simons said his main tasks at the Lake Campus will be to develop a food science program and teach classes. He currently is meeting with community members and area employers - who need workers with food sciences backgrounds - to form an advisory board.
"My purpose is to listen to what their needs and interests are so we are able to meet their needs with our students," Simons said. "The purpose of the program is to meet the needs of the community; we want them (students) to be trained."
Simons said the feedback he receives from the board will help him develop the program.
"Although I am an expert in the area (of food science), I see my role as collaborative," Simons said. "I see myself as a facilitator."
Simons said he wants to structure the program for traditional and nontraditional students. Some courses likely would be offered online. He envisions having evening courses to serve students already employed in the food science industry. On-the-job training also would be part of the coursework, he said.
Simons said he will instruct most of the classes at the Lake Campus. There are plans to collaborate with OSU's Agricultural Technical Institute (ATI) to offer some coursework via video conferencing.
Jared Ebbing, community and economic development director for Mercer County, said during a focus group meeting in May that the new program could help young people find jobs locally.
Lake Campus Professor Greg Homan, who led the focus group meeting, said he hopes the food science program can be tied in with the campus' existing ag program and provide industry tours, internships and co-ops.
The Progressive Agriculture Convention and Education (PACE) center slated for construction at the Mercer County Fairgrounds would be used by Lake Campus ag and food science students, Homan and Simons said. The center will provide classroom space for career and technical training and applied/hands-on learning for current and future ag industry employees.
Simons said he became interested in food science when a high school teacher assigned students a research project on various careers.
"I'd never heard anything about food science but stumbled on to it," he said. "I was fascinated by it."
He said he likes the field because it incorporates many different scientific principles. Biology, chemistry, microbiology, physics, engineering and mathematics all come together in food science, he said.
Simons, his wife Laura and their 9-year-old daughter, Anna, live in the Coldwater area.