Wednesday, September 4th, 2013
Fox's Den Golf Course partner pulls request
By William Kincaid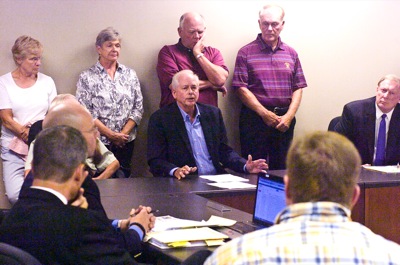 CELINA - A request to have 89 acres of the 18-hole Fox's Den Golf Course rezoned so it could be sold as agricultural land to retire debt and pay taxes was withdrawn by one of the owners Tuesday night at the Celina Planning Commission meeting.
Ted Bishop, a managing partner of Celina Golf LLC, told commission members he was withdrawing the rezoning request after Sam Carmichael of Martinsville, Ind. - who identified himself as a partner and investor of Celina Golf LLC - spoke against the proposal.
Bishop's decision to rescind the request, which was met with overwhelming applause from a packed council chamber audience, came about 30 minutes after commission members listened to Bishop, Carmichael and others speak.
Carmichael's wife, Susan, read what she said was a private placement memorandum with the LLC when it started Fox's Den. The document, she said, states that the company is dependent upon its managers - Bishop and Carmichael.
"These two are the co-general managers, and one can't do something unless the other one agrees," she said. "They each have a single vote, and it's in the document."
Not long after that statement, Bishop announced he was withdrawing his request and he exited council chambers.
Earlier in the meeting, Bishop said Fox's Den is facing a tremendous shortfall of several million dollars due to a "tragic set of circumstances" including declining national interest in the sport, an industry in a tailspin and multiple economic recessions over the decade.
In an effort to save the business and produce a model that will sustain itself, Bishop had asked commission members to rezone 89 acres of the course opened in the summer of 1996 to agricultural, which would allow Celina Golf LLC to sell the land while operating a smaller, nine-hole course.
"In the first five years that the golf course was in existence, it produced an average annual revenue of $671,000; in the past five years, that revenue has fallen to $415,000," Bishop told commission members.
The course is expected to generate $350,000 in gross revenue this year, he added.
"The ownership of the golf course, me primarily, started funding the operation in the early part of the last decade and has been forced to do so pretty much each and every year," Bishop said.
The $4.5 million golf complex has an outstanding debt service just shy of $2 million, he said. Based on revenue and income, Bishop said the appraised value of Fox's Den is now probably less than $500,000.
"We're not really in a position where it's practical or realistic for us to be able to sell the golf course," he said.
Bishop's legal counsel, Celina attorney Thomas Lammers, also noted that under the current zoning, the property could only be used as a golf course or single family housing.
"There is neither the demand nor the desire to build single family homes," Lammers said.
Carmichael agreed with Bishop about the state of the golf industry, but strongly opposed the proposal to sell part of Fox's Den.
"Personally, I am in total disagreement with this proposal," he said. "I think for the Celina people ... it's important to have an 18-hole golf course."
Carmichael, who said he owns and operates a golf course at another location, said neither he nor any of the other investors knew anything about the proposal and didn't even know the meeting was going to be held until a few days ago.
"Just remember this - never will you get another 18-hole golf course," he said. "This will be it. This is the only one you got out here. As far as the investors, this proposal does nothing for the investors. It only benefits Mr. Bishop."
Carmichael claimed the investors were unaware that Bishop made a loan agreement with another financial entity. According to Bishop, the bank now known as First Financial Bank served as Celina Group LLC's lender for 15 years. Over a period of years, it changed its name, ownership and lending philosophy and later sold the group's loan to Mooring Financial, based in Virginia, Bishop said.
"I gave Mr. Bishop power of attorney in 1997 because I was quite busy in other operations, and Mr. Bishop in 2008 made this agreement with the bank unbeknownst to me and in the process signed my name, which he didn't have to because he has my power of attorney," Carmichael said.
However, Carmichael claimed that power of attorney was revoked in 2010 and he said he is a manager.
The golf course was intended as something special for Celina and a way to make money for the investors, Carmichael said.
"They are his (Bishop's) investors; they're my investors," Carmichael said. "They're friends. They're all friends .. and they have lost their dollars. I have lost my dollars and going to agricultural land will not be a value to us at all because a nine-hole golf course is not going to make our money back."
Commission member Tom Hone asked if the Eaglebrook housing subdivision, which is surrounded by the links-style golf course, is a separate entity from Fox's Den. Carmichael said it was.
"Who are the petitioners?" commission member Ralph Stelzer asked. "Who are the owners? We may not have a reason to have this meeting because we don't know who wants what. You're an owner, and you're an owner."
Commission members adjourned the meeting after the request was rescinded.
Carmichael told the newspaper he didn't know what investors intend to do.