Wednesday, September 4th, 2013
Flyers overcome slow starts
Marion Local defeats Celina in four games
By Gary R. Rasberry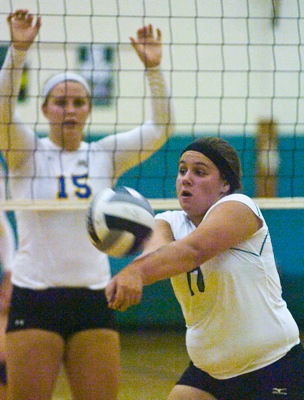 CELINA - After tying its match against Marion Local at one set apiece, Celina jumped out to 5-0 leads in both the third and fourth sets. However, Marion Local rallied in both sets to come away with a 25-17, 23-25, 25-16 and 25-21 victory on Tuesday night at the Intermediate School.
"We just got off to slow starts most of those sets," said Marion Local coach Amy Steininger. "It's been happening to us all year. It's something we needed to work on. But credit to our girls for battling back."
The Flyers (6-0) won the opening set 25-17 with the Bulldogs (4-3) edging Marion Local in game two 25-23.
Celina got hot early in game three as middle-hitter Michaela Wenning had three kills and a block for the first four points to help give the Bulldogs a 5-0 advantage.
"They ran a lot of 31s (quick sets to the middle-hitter) against us with her," said Steininger of Wenning, who had 15 kills overall. "They were successful. She's their main threat, that's for sure."
Slowly but surely, the Flyers got back into a groove by using multiple-serve rotations to eventually tie the score at 7-7.
Clara Wuebker came up with a big service run to put the Flyers in front, getting three aces along with kills from Meg Schwieterman and Hannah Heitbrink for a 16-9. Celina pulled to within five points down the stretch before Marion Local took a two games to one advantage following a 25-16 win.
The start of the fourth game was a near carbon-copy of the third, as aces by Kaity Kuhn and kills by Wenning put Celina up 5-0. After a Beth Goettemoeller kill put the Bulldogs on top 8-2, it prompted Steininger to call a timeout. The Flyers worked their way back behind Katie Elking's service run that included an ace while Brooke Winner recorded a pair of kills to put the Flyers into the lead at 10-9.
"We just need to stop those five-point runs," said Celina coach Amy Sutter. "We let them have too many in a row. We have to stop those (runs) sooner and gain the confidence to know we can compete against those teams and can win against those kinds of teams."
The teams were tied five more times before a pair of Gina Kramer kills and several Celina hitting errors gave the Flyers an 18-14 advantage. Kills from Wenning and Emily Dorsten cut the Bulldogs' deficit to 18-17 and the game was tied for a last time at 19-all. Kramer then served an ace and Clara Wuebker registered several kills down the stretch to help give the Flyers a 25-21 win.
"You have to give Celina a lot of credit," said Steininger. "They're scrappy, athletic and they fought hard. It was hard to get points against them, that's for sure."
Sutter was pleased with how her team played.
"We played really well tonight," said Sutter. "I don't have any complaints. Our blocking was better. Our defense was better than it's been. Marion Local is a fantastic team. They're going to find holes in the court no matter what."
Kramer had 18 kills to lead the way for Marion Local with Heitkamp and Winner adding 10 kills apiece. Allie Wendel dished out 22 assists.
Goettemoeller had eight kills for the Bulldogs while Kuhn had 21 assists and three aces.
Both teams get into league play again on Thursday. Celina travels to Putnam County to face Ottawa-Glandorf while Marion Local returns to The Hangar to face Fort Recovery.