Wednesday, September 11th, 2013
Celina shuts out Defiance
Green and White score six times during first half
By Gary R. Rasberry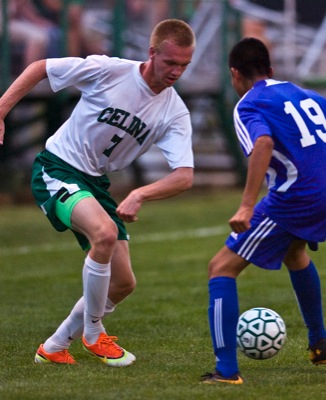 CELINA - A couple of days after posting a season high in goals, the Celina boys soccer team matched that same total in the first half.
Celina scored six times in the first 40 minutes and improved to 3-0 in Western Buckeye League soccer action with an 8-0 drubbing of Defiance on Tuesday night at the Soccer Stadium.
It's the fourth straight win for Celina, which has scored 20 goals during that streak.
"Offensively, things were clicking," said Celina coach Ryan Jenkins. "Defensively to start the game, things were a bit shaky. We talked at halftime about tightening up in the second half. A lot of guys got a lot of time in different spots. It was a good league win."
Once Celina (5-2-1) scored a goal during the first half of play, a second was not far behind.
The fun started at the 34:18 mark with Ryan Hoyng breaking inside for a goal. Just 76 seconds later, Jarren Casto kicked the ball inside, where Eric Moeder put it away with a perfect header with 33:02 showing on the clock for a 2-0 Celina lead.
With 19 remaining in the first half, Brennan Piper scored to make it 3-0 on a driving shot and just 54 seconds later it was Eddie Eichler making it 4-0.
The final two goals came with just 1:09 to play before halftime. Braden Conn took a Hoyng pass and scored and 24 seconds later it was Hoyng scoring his second goal of the night to give Celina a 6-0 lead at halftime.
Celina had a chance to make it seven goals in the first half, actually, but misfired on a penalty kick.
"It was nice to see different guys score," said Jenkins. "Some of them, it was their first one. It's always fun to see that."
The focus for Celina in the second half was to keep Defiance from ending the shutout. Celina's defense stood tall holding Defiance to just two shots in the game.
"Defensively marking, we were a little lax in the first half, but were still able to tighten up inside our 18 (the 18-yard box outside the goal)," said Jenkins. "Second half we worked on our marking."
Hoyng earned the hat trick with his third goal of the night at the 23:28 point of the second half, with Casto scoring his second goal with 14:17 remaining in the game.
Celina's junior varsity also posted a shutout over Defiance, winning 4-0.
Next up for Celina is the Bluffton Pirates, who come to the Soccer Stadium on Saturday for a matinee matchup.