Saturday, September 14th, 2013
Parkway High School student's talent blooms into national honors
By Amy Kronenberger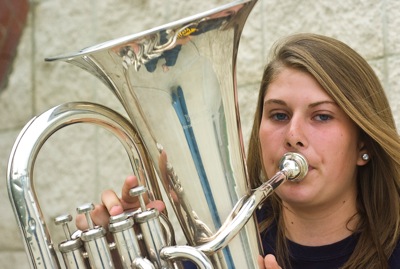 ROCKFORD - Music and mums are providing a path to a promising future for one sophomore at Parkway High School.
Taylor Hesse, daughter of Galen and Tanya Hesse, Mendon, recently learned she is one of only two Ohio FFA members to be selected to play in the National FFA Band during the National Convention and Expo in Louisville, Ky., from Oct. 30-Nov. 2.
Only 80 high school students in the country were chosen for the honor.
"I am super excited," she said. "I didn't think I'd get accepted at all, but I thought I might as well try."
The ambitious teen also is caretaker for more than 500 mums. The project could help her obtain an FFA degree - a valuable asset when entering college and snagging a career, she said.
Hesse, who plays baritone, recorded and submitted two songs and two scales for the national judging. When she received the email telling her she was selected, she had to read the message two or three times to make sure it was real, she said.
"FFA is an opportunity to excel in different ways," Parkway schools FFA advisor Alan Post said. "I encouraged her to apply for the state band. She was very apprehensive but she made it. Then when the time came for the national band, I said 'you know, now that you've done state band you can try for national.'"
Hesse said she's considering majoring in music after high school and becoming a band director. She knew the state and national bands would be a great opportunity for her, she added.
FFA students from all 50 states, Puerto Rico, Virgin Islands and Guam were eligible to audition for the competitive group.
"It's all based on auditions," Post said. "I've had other students try out, even seniors, who never made it. Taylor was my first student to make it ... to me, it's an honor for her to do it."
Hesse will arrive in Kentucky three days before the convention and meet her band mates for the first time. The group will have only a few days to practice together before performing at the convention.
She will be assigned three other roommates during her stay and wonders what it will be like to live and perform with strangers.
"I'm pretty nervous about going down there and spending a week with people I don't know," she admitted.
When not playing her baritone, Hesse spends her free time raising 550 mums for an FFA project.
A freshman or sophomore student are chosen each year to raise and sell pots and hanging baskets of mums until graduation. Post said he chooses an FFA member who shows the initiative and has the opportunity and time to do the work involved. He also selects someone who is working toward an FFA degree.
"I knew Taylor would be perfect for the job," he added.
State and national FFA degrees are earned while still in high school and can be achieved by working a certain number of hours and earning a specific amount of money, Post said. Once the state degree is earned, the student must work additional hours and earn more money if he or she wishes to obtain the national degree, he explained.
The money Hesse raises through her mum sales will count toward her degree, she said. She can keep the money for herself, but Post said most students put the profits toward college expenses.
Hesse said she wants to earn her FFA degree because the accomplishment will help her when applying for college or employment. She has spent many hours watering, fertilizing and caring for the plants during the summer and especially during the recent weeks of drought, she added.
Hesse during the summer received the mums as small plugs about 2 to 3 inches tall and cared for them until they reached the size of their pots.
"It's like the goldfish theory," she said. "The mum will get as big as its pot."
Anyone interested in purchasing the mums, which are priced from $5 to $20, can call Hesse at 419-795-3069 or 567-644-5235. The flowers are available in 18 different colors and various sizes.
Hesse said she joined FFA because her sister was a part of the program and always enjoyed it. The girls began raising goats and rabbits for the fair several years ago, she said.
The teenager does not live on a farm but her grandfather does and she learned to love livestock through him and her father, she said.