Saturday, September 14th, 2013
Defense paves the way for Flyers' win
By Mark Ruschau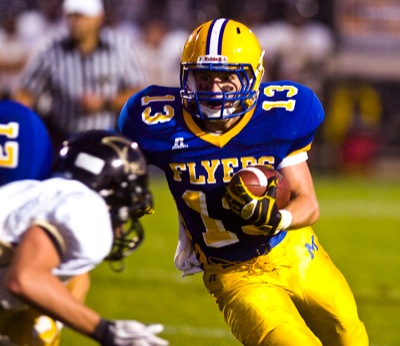 MARIA STEIN - Marion Local's suffocating defense keyed the Flyers' 42-13 win over the Parkway Panthers on Friday night at Booster Field in the Midwest Athletic Conference opener for both squads.
The Flyers' defense allowed a season-low 187 yards of total offense on 47 plays, with 62 yards coming on two Parkway touchdowns in the last three minutes of the game against Marion Local's second- and third-team defenses.
Marion Local also picked off Parkway quarterback Austin Dennsion four times, all in the first half.
"All in all, I think we took a step forward this week," said Marion Local coach Tim Goodwin. "Our defense has really played well all year long. I don't know if the final score is going to indicate how the defense played tonight."
On the other sideline, Parkway coach Dan Cairns was impressed with the Flyers
"They are an excellent football team. They are the defending state champions for a reason," Cairns. "They are very sound in every phase of the game and they are very physical as well and they are well-coached.
"When you turn the ball it is tough," continued Cairns. "A couple of those interceptions I felt bad for our quarterback because they were not his fault. We had passes knocked up in the air by linemen, and when that happens anything goes. They are a great team because they do so many things well. They are a tough team to defend.
Marion Local (3-0 overall, 1-0 in the MAC) put the first score on the board after a poor Parkway punt gave the Flyers the ball at their own 45-yard line. From there, they drove the 54 yards in five plays with Adam Bertke hooking up with fellow senior Troy Homan for a 14-yard score. Peyton Kramer added the first of seven PAT kicks to give the Flyers a 7-0 lead just 3:01 into the game.
Marion Local's defense came up big for the first time on the next series as senior cornerback Nate Nagel picked off Dennison, setting up the Flyers' offense at their own 46-yard line. The Flyers went on a 13-play drive with Jacy Goettemoeller scoring from a yard out.
The ensuing Parkway drive lasted just one play as Marion Local's Dustin Rethman picked off Dennsion at the Parkway 45-yard line. After a holding penalty set the Flyers back to their own 40, the Flyers recovered and went 60 yards in eight plays with Bertke hooking up Homan for a 12-yard pass scoring strike.
Homan caught 11 passes for 106 yards, both team highs, while Bertke completed 13-of-19 for 150 yards and two scores in a little over three periods of work.
Goettemoeller led a punishing Marion Local rushing attack with 17 carries for 112 yards and two scores. The Flyers rushed the ball 47 times for 231 yards overall.
After a three-and-out by Parkway, Marion Local's offense made it four scores in four series as they went 45 yards in 10 plays, with back-up quarterback Dustin Rethman scoring on a five-yard scramble.
Marion Local hits the road next week, traveling to Fort Recovery while Parkway (1-2, 0-1 MAC) returns home to take on New Bremen.