Wednesday, September 18th, 2013
Algae toxins remain high in Grand Lake
By Nancy Allen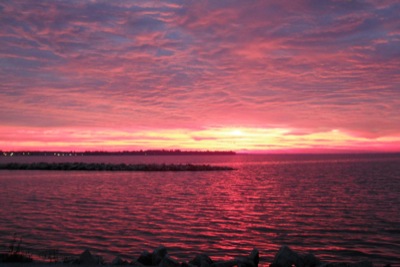 State officials say water quality in Grand Lake is improving. Data show the opposite.
Average monthly algae toxin levels between Memorial Day and Labor Day in 2011, 2012 and 2013 show an increase every month except July, when the level fell slightly. 
Despite the readings, a state official said the lake is getting better.
"I talked to a lot of folks and they said the fishing has been the best it has been in a long time and a lot of folks in our department said fishing has been good and people around the lake said it looks better than it has in years past," said Mark Bruce of the Ohio Department of Natural Resources. "We continue to do testing and while there was an advisory posted, we feel things are improving up there."
This is the fifth consecutive year the state has placed a water advisory on Grand Lake due to unsafe levels of toxins produced by blue-green algae, also known as cyanobacteria. The advisory is posted when microcystin toxins exceed 6 parts per billion. The elderly, very young and people with compromised immune systems are told not to swim or wade in the water.
Between 2011 and 2013, average toxin levels ranged from a low of 11 ppb in May 2011 to a high of 90.3 ppb in May 2013. The only month the average monthly toxin level dropped was in July 2012 and July 2013 when it went from 36.2 ppb to 29.1 ppb.
Bruce said tests done on water leaving a treatment train on Prairie Creek showed significant reductions in nitrogen and phosphorous, nutrients that feed the blue-green algae. The treatment train diverts a small amount of water from the creek, funnels it through a series of manmade wetlands and treats it with alum, a chemical that deactivates phosphorous - the algae's favorite food source - before emptying into the lake.
He could not point to any other data showing the 13,500-acre lake is improving. He added that the lake's health is not based solely on toxin levels. Nutrient loading reductions at the treatment train site is a "positive step in the right direction," he said.
An Ohio EPA official said it's too soon to tell if the lake's water quality is improving and officials with the agency see any improvements as a multi-year, multi-faceted endeavor.
"Alum treatments, dredging, rough fish removal, etc., over the past two years have all been steps toward making a difference at Grand Lake," said Erin Strouse of the Ohio EPA. "Seasonal variations and differences in precipitation from year to year mean we need to look at the situation over a longer period of time to truly comment on trends ..."
OSU biological sciences professor David Culver, who has studied the lake's algae, said even if ongoing efforts to reduce runoff from farmland in the watershed are successful, it will take many years for the lake to improve due to the accumulated phosphorous that is continually resuspended by wind and wave action.
"The real thing we need to do is reduce the phosphorous coming into the lake, but even if we do that right away, we still have a lot of sins to pay for in the phosphorous that's in the sediment," Culver said. "And the lake's too big to dig out all those sediments."
Studies show most of the phosphorous that runs into the lake comes from farmland, the largest land use in the livestock-heavy 58,000-acre watershed. In January 2011 the state designated the watershed distressed, triggering new manure rules designed to reduce nutrient runoff for the 270 farms in the watershed. Farmers must install manure storage so they do not need to apply the waste to frozen or snow-covered ground and implement nutrient management plans.
The state remains in court with one of the 156 farmers in the watershed, the only one to not complete a nutrient management plan.
Bill Ringo, a member of Guardians of Grand Lake St. Marys, said the lake's water quality is no better than it was in 2009, the first year the state issued a warning. He also claimed the state is not using scientific data to back up its assertion that the lake is getting better.
"Every time we speak up, someone says we're finger pointing," Ringo said. "Anyone studying the degradation of the lake knows the root problem and the lack of political will to solve the problem. We hear the reports, we check them out and the reports we see tell us the lake is not improving."
Ringo said more strict soil sampling requirements are needed for farm ground in the watershed. He also said all farms should have to follow the strictest manure management rules that state permitted farms must follow.
"There's too many animals and too much manure in the watershed, everybody knows that," he said. "I don't want farmers to have to reduce their (animals); I want them to have a good business, but if the nutrients stay in the watershed, it does no good."
Milt Miller, manager of the Lake Restoration Commission, said the lake looked good this summer because there were fewer algae blooms that produced surface scums.
"We had cooler weather and good water for the people to boat and play in," he said. "By and large, we had some very minor blooms, but not enough to impact activity."
Miller said it's difficult to use yearly toxin level readings to determine if the lake is getting better because there are so many variables that determine the extent of blooms.
"If the summer weather and rainfall and wind all remained consistent year after year, then you could fairly draw a comparison over the years," he said. "But there are just too many (variables) that come into play so it's hard to measure."
Miller said more people used the lake this summer than in recent years likely because people have become more educated on what precautions to take. Toxic algae blooms have become an increasing problem worldwide, he noted.
"We have not had a dog or human illness reported since 2010 and there have been a lot of people tubing, playing in the water and jet skiing," he said. "I think the message we are coming to is if you are of normal health and in that middle age group, A, don't drink the water, and B, shower when you're done, and have fun."
Microcystin is a liver toxin produced by blue-green algae that can harm humans and animals. It can cause skin rashes, and if swallowed, it can cause nausea, diarrhea and vomiting. In 2010, eight human illnesses and three dog deaths due to contact with algae toxins were reported at Grand Lake.
This summer's Governor's Cup hydroplane races and festivals on the lake went well, getting residents out to the lake and drawing in outsiders, Miller said.
He conceded it will take many years for the state to drop the distressed watershed designation.
"We clearly realize we have a sick lake and we're still working every bit as hard now as we did then," he said. "We all want the day to come when we get rid of that designation and say our lake is healthy, but we're not there yet."
Miller said the results of water tests done at the Prairie Creek treatment train are promising. Local officials want to build the water cleansing systems on all the main lake tributaries. Funds were allocated in the most recent state budget to build a second treatment train on Coldwater Creek.
Grand Lake is among four lakes in the state with water advisories due to algae toxins. Others include Buckeye Lake southeast of Columbus, East Fork Lake east of Cincinnati and Maumee Bay in the Lake Erie western basin.
Algae toxin levels and state water bodies with advisories due to algae toxins can be viewed on Ohio EPA's website at
epa.ohio.gov/habalgae.aspx
.
Average algae toxin levels Memorial Day - Labor Day:
(parts per billion)
| | | | |
| --- | --- | --- | --- |
| | 2011 | 2012 | 2013 |
| May | 11 | 22.5 | 90.3 |
| June | 15 | 27.5 | 55.5 |
| July | 15.5 | 36.2 | 29.1 |
| August | 14.7 | 35.2 | 44.2 |
| Sept. | 12.9 | 50.4 | 62.5 |
Source: Ohio EPA