Wednesday, September 18th, 2013
Celina shuts out St. Marys
Bulldogs tied with Shawnee for top spot in the WBL
By Gary R. Rasberry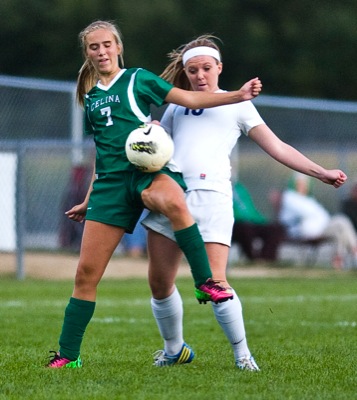 ST. MARYS - As if rivalry matchup isn't big enough, a chance to move to the top of the Western Buckeye League standings was up for grabs for Celina's girls soccer team.
For St. Marys, it was a battle to maintain their share of the WBL lead.
A late first-half goal and Celina's stingy defense gave the Bulldogs a great start and a second half goal put the icing on the cake as the Green and White knocked off their Grand Lake rivals 2-0 on Tuesday at Roughrider Field.
The win, coupled with Elida and Shawnee playing to a 1-1 draw, pushed Celina (3-0-2) into a share of first place with Shawnee at 3-0-2 (11 points) in the WBL standings while St. Marys drops to 3-1-1 (10 points).
The Bulldogs' defense kept the Roughriders from getting any good looks at the goal, as St. Marys was limited to just four shots with Celina's goalkeeper Callie Vogel needing to make saves on three of them.
"We were able to keep them out," said Celina coach Cal Freeman. "I think it's the strongest part of the team right now. The girls played well back there, cover well and play hard. They take it very personally to keep people out of the goal."
"We knew coming in they were going to play tough defense," said Roughriders coach Paul Dingledine. "They have played it all year long. We just didn't step up. We had some opportunities but didn't make the best of them."
St. Marys was also playing solid defense as sophomore keeper Hailee Andereoni made several big saves early to keep the match scoreless.
That changed as the clock neared the six-minute mark of the first half. Emily Jackson passed the ball to Bekah Carr just outside the 18-yard box to the right side of the keeper before Carr and lofted a perfect shot that curved into the back of the net with 6:01 left in the opening half to put Celina into the lead.
"When you have a game that's as intense as this, and someone scores first, I'll tell you what, it's such a boost to that team and a let down for the other team as far as emotions," said Freeman. "Both teams, you're on a high and they're on a low. Both teams have to regroup because the adrenaline is just going crazy."
"It was a nice shot," said Dingledine. "They tried again later that half, but it didn't' work then. Not a bad plan. Fifty percent of them went in."
In the second half, Celina increased the defensive pressure to keep the Roughriders from getting an equaling goal and St. Marys had just one shot attempt.
"Our gameplan from that point on was 'Don't let them score,'" said Freeman.
Celina's insurance goal came 14 1/2 minutes into the second half as Carr crossed a pass inside the penalty box, where Caelyn Reineke put it past Andreoni for a 2-0 Celina advantage. Andreoni was injured on the play and had to be replaced by freshman Bailey Fenwick-Miller.
Fenwick-Miller came up with four saves over the final 25 minutes, including a spectacular save on a Reineke header with 10 1/2 minutes left to avoid a three-goal deficit.
Celina (5-1-4 overall) returns to action on Saturday hosting Bellefontaine with an 11 a.m. JV start. St. Marys (5-3-1) returns to action on Monday, hosting Defiance in WBL play.