Monday, September 23rd, 2013
Fischer, Koesters part of three-way tie at the top
Midwest Athletic Conference Girls Golf
By Robb Hemmelgarn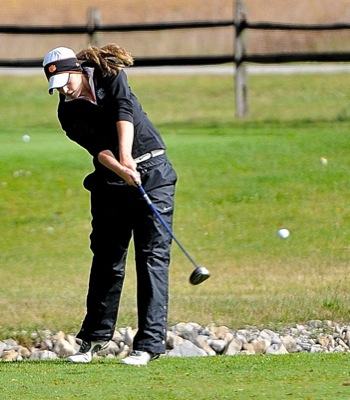 MINSTER - Under cloudy skies and cooler temperatures, the Midwest Athletic Conference girls' golf teams met at Arrowhead Golf Club in Minster on Saturday for the annual MAC golf tournament.
Once things wrapped up in the early afternoon, the Versailles Tigers prevailed as the match champions. Medalist honors were shared by Minster's Claire Fischer, St. Henry's Taylor Koesters and Versailles' Brooke Wehrkamp. Two-time defending champion Kelsey Koesters from Coldwater, finished one stroke behind the winning trio after shooting an 82 for the day.
The match was a brawl on the wet course through the first nine holes as Fisher, Taylor Koesters and Wehrkamp were all knotted at 40, setting up what was expected to be a tight finish on the back nine. All three golfers hit 41 on the final nine holes along with Kelsey Koesters, but in the end the medalist honors would be shared.
"It was wet and chilly out on the course today, but I had to keep focused on the goals that I had coming into the match," said the Redskins' senior Taylor Koesters, whose 81 broke her previous school record. "I knew it was going to be tight in the end with all of the other girls, but I put that in the back of my mind and was able to accomplish what I set out to do."
Fischer, who placed third in the MAC tournament last season, was equally happy with the result of her play.
"The conditions weren't great out there and I had a little trouble with my drives, but thankfully my short game helped in the end. It was a good time today and knowing some of the competition that was playing, it helped me to stay focused and motivated through all 18 holes," said Fischer.
Finishing behind the two-time defending champion Versailles Tigers was St. Henry in the runners-up position, followed by the Minster Wildcats in the third slot.
"I am very excited today for the girls. They definitely had their work cut out for them against great competition because Minster and Versailles definitely didn't make it easy," explained St. Henry's first-year head coach Ashley Fullenkamp. "When we arrived in the clubhouse, we weren't certain how we did based on our individual scores but once the results came in we were thrilled. The girls played hard today and stuck it out through the conditions so I am equally proud of all of them."
Minster head coach Deb Ahrns was also encouraged by her teams' play.
"These were the wettest conditions we played in all season, so I am pleased with how the girls stayed focused and responded," said Ahrns. "Golf is different from any other sport because there are so many factors that can change, especially with the wind as the day wears on so you can never prepare 100 percent for that. We had three freshmen in the lineup today and they all handled things well. Claire did an outstanding job of keeping her composure throughout the day and I am proud of her for finishing as one of the three medalists."
Conference champion, Player of the Year and All-MAC squads will be determined this week once all regular season MAC matches have been completed.

MAC Girls Tournament Results:
Results from the 2013 MAC Girls Golf Tournament held at Arrowhead Golf Club in Minster. (Note: All-MAC and Golfer of the Year selections will be released later this week after the play of remaining conference matches).

Team Standings
1. Versailles 368, 2. St. Henry 390, 3. Minster 398, 4. New Bremen 411, 5. Coldwater 423, 6. Marion Local 432, 7. Parkway 479, 8. Fort Recovery 500.

Top 10 and ties
1. (tie) Claire Fischer (Min), Taylor Koesters (SH) and Brooke Wehrkamp (V) 81; 4. Kelsey Koesters (CW) 82; 5. Marissa Conrad (Min) 87; 6. Mackenzie Howell (NB) 92; 7. (tie) Terra Walls (P) and Hannah Niekamp (V) 94; 9. (tie) Rachel Parker (NB), Lauren Grieshop (SH) and Elizabeth White (V) 95.