Monday, September 23rd, 2013
Bulldogs, Roughriders finish in a tie
By Gary R. Rasberry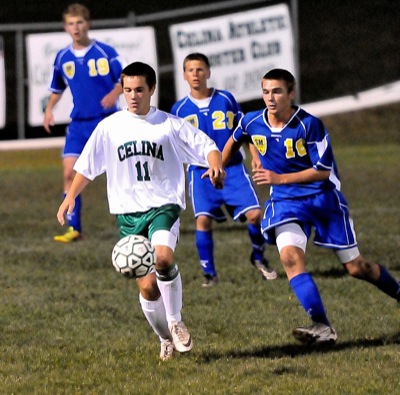 CELINA - The large crowd that came to Celina Soccer Stadium on Saturday night got to see a classic battle between Grand Lake rivals St. Marys and Celina.
Eighty minutes came and went, and neither team could dent the scoreboard as the Bulldogs and Roughriders each gained a point in the WBL boys soccer standings with the scoreless tie.
The Roughriders, state-ranked last week in the coaches' poll, maintain their lead in the WBL standings at 4-0-1 (13 points). Celina moves its league mark to 3-1-1 (10 points), currently fourth behind St. Marys, Shawnee and Wapakoneta.
"Didn't get the W, but we're still in first place in the WBL and they're still looking at us from behind," said St. Marys coach Dave Ring.
"That's two years in a row that we've not settled the score," said Celina coach Ryan Jenkins, referring to last year's match that also ended in a scoreless draw. "It was a good game."
Right from the first whistle, both teams' defense stood tall. Early on St. Marys was getting the good looks at the goal, but shots either went right into Celina keeper Braden Conn's hands, wide or above the goal. The same was true for the Bulldogs, as Roughriders' netminder Stuart Yahl made several saves to keep the shutout intact.
In the second half, the pace became a little more furious as the teams worked to try and get the go-ahead goal. In a 3 1/2-minute span eight minutes into the second half, Celina had two prime chances to score. Jarren Casto had a shot inside the 18-yard box just graze the top of the crossbar and out of play. Fifty seconds later, Ryan Hoyng made it inside the box and kicked right on to the goal, only to have Yahl make the stop.
With 29 1/2 minutes to play, St. Marys was threatening to score as a wild fury of short kicks and deflections ended in a shot up and over the bar.
The last best chance for Celina came with 7 1/2 minutes remaining when Yahl was caught out of position but a clear shot at the open net was unable to be targeted.
"Our defenders stepped up," said Jenkins. "Braden stepped up in the back. When (St. Marys) had their shot, they were where they were supposed to be."
Both Conn (seven saves) and Yahl (three saves and several interceptions of crossing passes) took control when the ball came into their zone.
"We had our chances," said Ring. "I'm proud of everybody. Thought we played much better offensively in the second half."
"It was a fun one to watch," said Jenkins. "Both teams hit the crossbar several times. Just no one could break through. Both teams played extremely hard. I'm proud how hard my guys played. We wanted to get the win."
Both teams go back into league play on Tuesday. Celina travels to Van Wert while St. Marys plays host to Defiance at Roughrider Field.