Saturday, September 28th, 2013
Historic church cancels Sunday services
By Amy Kronenberger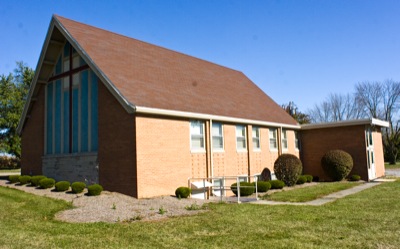 NEPTUNE - After 143 years, the Neptune Church of God is ceasing Sunday morning services and may close due to a dwindling congregation.
Church members recently voted to seek a different direction for the church at 7979 U.S. 33. The final worship service is 10 a.m. Sunday; everyone is welcome to attend.
Lifelong member Dwight Bair said he and other congregation members saw the writing on the wall when it came to the congregation's future.
"We've gone from 200 in attendance to 20; it's been a long time coming," he said. "It's not bothered me much; I seen it coming. I've seen a lot of things coming and going ... It's been inevitable for a long time."
Bair's daughter, Glenna Bair, who serves as the church's acting treasurer, said the congregation's future lies in the hands of the Great Lakes Conference, Churches of God Conference in Findlay.
"But I personally would like to see classes or some kind of Christian events or outreach in our church," she added.
Glenna Bair said the decision to end Sunday services was made because of an aging congregation and an absent younger generation to "take up the reigns."
Great Lakes Conference Director Earl Mills said the board of directors will meet in October to discuss possible future uses for the church. Likely scenarios include reopening for classes, events or missions; allowing another church to utilize it; or if necessary, a sale.
"We certainly want to continue what the original people intended," Mills said. "Our goal is to have some kind of ministry situation or service offered."
He conceded all churches have life cycles and due to Neptune's aging congregation "it's coming to an end in that life cycle."
"We would like to see a renewal of some kind, a new start, but we'll see," he said.
The conference will continue to maintain the church until a decision is made, Mills said, adding he hopes certain existing services such as the winter walk program will continue.
The current church was constructed in 1959 after the original structure, built in 1878, burned down. The first church was located just north of Neptune on state Route 197, Dwight Bair said.
In 1955, the former church was damaged by a lightning strike but was repaired. Later that year a fire broke out due to faulty wiring and the church burned to the ground. The organ, piano, hymnals, pulpit furniture and a few chairs were salvaged.
Bair's parents donated the land from their farm for the new church and fundraisers were held to pay for the $20,000 structure.
"It took three banks to finance us but we got it paid," Bair said.
For more information about the church, email Glenna Bair at dondoro@bright.net or general conference director Earl Mills at glcdirector@cggc.org.