Saturday, September 28th, 2013
Big plays carry Parkway to win over Fort Recovery
By Gary R. Rasberry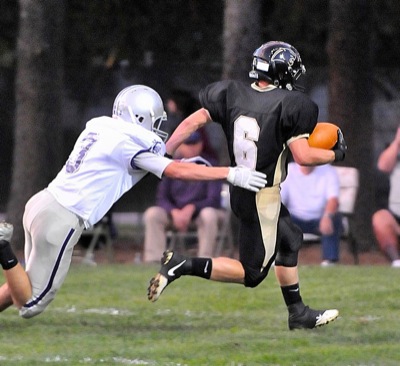 ROCKFORD - Parkway's offense aired it out early and often against Fort Recovery and the Panthers' defense shut down the Indians after a frenzied first quarter to pick up their third win of the season with a a 43-14 triumph at Panther Stadium.
The game had the makings of a shootout as Parkway went ahead of the Indians 18-14 at the end of the first quarter after Austin Dennison hit Brant Barna for a 65-yard touchdown pass.
After scoring 14 points in the first quarter Fort Recovery's offense was shutout for the final three quarters by Parkway's defense.
"Thought we settled down and made a couple small adjustments defensively," said Parkway head coach Dan Cairns. "(Defensive coordinator) Dave Hucke did a nice job making a couple adjustments on defense. ... Great job by the defense tonight."
"We just made mistake after mistake when we were still in the game," said Fort Recovery coach Brent Niekamp. "We had chances to make some plays and didn't make them. Took ourselves out of position a lot."
The Panthers began to pull away in the second quarter with the help of some shenanigans out of the offensive playbook. After Parkway blocked a Fort Recovery punt that gave the Panthers the ball at the Indians' 20-yard line, Ryan Lautzenheiser took a handoff and fired the option pass to a wide-open Barna for a 27-yard score midway through the second quarter. Two possessions later, Parkway took a 30-14 lead when Dennison threw his fourth touchdown pass of the opening half. He hit Kris Gangwer from 11 yards out with just under a minute left in the second quarter.
Dennison aired the ball out in the first half for 250 yards, something that Cairns chalked up to going with the team's strength.
"We came out the last couple weeks trying to establish the run," said Cairns. "We did a little soul-searching in the coaching staff and decided that we played our best when we came out and were aggressive, calling it like it was a 7-on-7. The big games we had earlier (especially the 63-0 win at Riverside), that's what we were doing. So we decided to take the gloves off, play aggressive, no holds barred, go after it and put the pedal to the floor."
In the second half, Parkway kept the ball on the ground whenever possible to keep the clock moving. Caleb Heindel pushed Parkway in front 37-14 with a 10-yard score in the third quarter and Dennison added the final score of the night on a brilliant draw play good for 20 yards that put the Panthers on top 43-14.
Dennison completed 11-of-22 passing for 296 yards. The 6-5 Barna was a big beneficiary, snagging four passes for 154 yards and two scores. Adam Carr and Matt Heindel had the other first-quarter scores from 62 and 54 yards out.
"Credit to Parkway's kids. They made some big plays, especially early in the game," said Niekamp. "... Dennison played well, and we didn't."
Both Carr and Heindel were unable to stay for the finish, as Heindel went down with a possible collarbone injury and Carr left with an undisclosed injury.
"It was a costly game for us, injury-wise," said Cairns. "Not sure how bad it is. We'll find out over the weekend. We had some guys step up and do a nice job tonight."
Fort Recovery's Darien Sheffer was 19-of-33 passing for 157 yards with Mitch A. Stammen snagging 10 passes for 81 yards. Kyle Timmerman had 15 carries for 90 rushing yards. Alex Wenning scored both the Indians' touchdowns on short-yardage runs (one and two yards).
Parkway travels south next Friday to face Versailles and Fort Recovery celebrates Homecoming at Barrenbrugge Park with New Bremen coming to town.